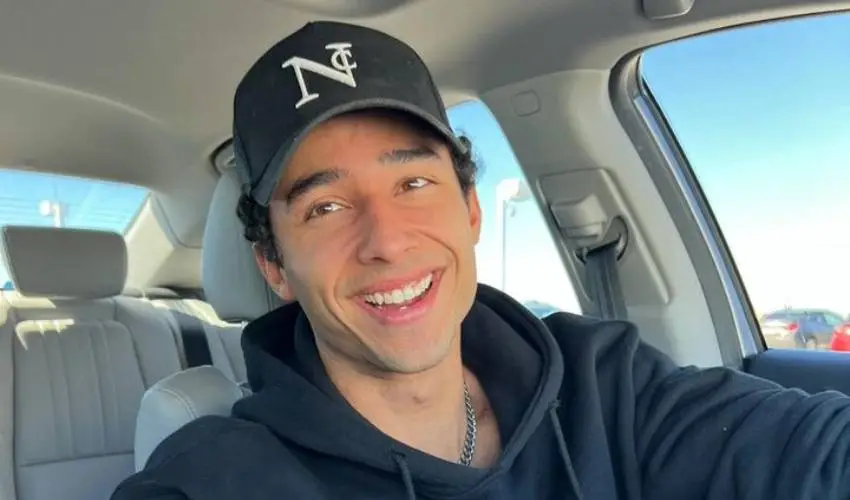 Austin Armstrong is an American TikTok star, YouTuber, and Content Creator who gained popularity for his collaborations with the Schnacky family.
Austin is a social media influencer and content creator known for his TikToks. His funny story times and content created with The Schnacky Fam have contributed to him amassing over 130 million likes on TikTok.
His YouTube channel has over 654K subscribers as of August 2023 and 480K followers on Instagram.
This young influencer also sings in a worship band with his family called JWLKRS Worship.
Learn about Austin's age, weight, nationality, ethnicity, girlfriend, and more!
Name
Austin Tyler Armstrong
Also Known As
Austin
Date of Birth
October 27, 1997
Place of Birth
Orlando, Florida
Gender
Male
Zodiac Sign
Scorpio
Height
6 ft 4 inches (1.93 m)
Profession
TikTok Star, YouTuber, Content Creator, Influencer
Nationality
American
Religion
Christianity
Ethnicity
Mixed Ancestry
Father
Linzey Armstrong
Mother
Jeanie Armstrong
Sibling(s)
Linzey Armstrong (IV) (Eldest Brother)
Elizabeth Armstrong (Elder Sister)
Dillon Armstrong (Younger Brother)
Education
****
Marital Status
Not Married
Children
None
Net Worth
****
Table of Contents
Austin Armstrong's Age
Austin was born Austin Tyler Armstrong to his parents in Orlando, Florida, United States, on October 27, 1997. As of 2023, he is 25 years old.
Austin Armstrong's Height & Weight
Austin stands at a staggering height of 6 feet 4 inches or 1.93 meters or 193 centimeters. His weight currently needs to be discovered. He has a fit physique and takes care of his diet.
He has curly black hair and dark brown eyes.
Austin Armstrong's Religion & Nationality
Austin was born into a Christian family in the Scorpio zodiac.
He was born, raised, and educated in the United States; he is an American national.
He is a big follower and propagator of Christ, so he is a Christian by religion.
His mother is White-Caucasian, while his father is a blend of African-American, Indian, and Irish. Hence, Austin has mixed ethnicity.
Austin Armstrong's Parents & Siblings
Austin's mother is Jeanie Armstrong, and his father is Linzey Armstrong. Both his parents were models and actors in their early days. Now, his parents are religious propagators.
His mother is a Christian singer, songwriter, and worship leader.
His parents met while on a four-hour van ride to a modeling assignment. They got married when Linzey was 31, and Jeanie was 21.
Austin has 3 siblings. Linzey Armstrong IV, the eldest sibling, is a professional actor. His elder sister is Elizabeth Armstrong, who is a singer and songwriter. His younger brother is Dillon Armstrong, who is also a social media content creator.
Austin Armstrong's Education
There is not much information in the public domain regarding his education. We will give an update as soon as we get any information.
Austin Armstrong's Career
Austin used to be a model before diving into content creation. He has worked as a Social Media Manager in Shake the Nations since 2016.
He created his Tiktok account in October 2019 and his YouTube Channel on September 2020.
His channel mostly features pranks, challenges, and vlogs. However, his most popular videos are the ones where he collabs with Allie Schnacky.
He has garnered a substantial social media fanbase over the past three years. He also started his own clothing line, Novello & Co. luxury clothing company. 
Austin Armstrong's Girlfriend
He is dating his best friend, Allie Schnacky. They have been creating content together since 2019.
They first met when Allie was 14. Austin is Allie's brother Noah's best friend. Hence, he would often come to their house and spend time together.
Fans loved to see them together on their YouTube videos. They have great chemistry, and their fans speculated they were probably dating.
The couple finally came clean about their relationship a few days ago and revealed many details of their secret relationship in their latest YouTube video.
Austin Armstrong's Wikipedia
Here are some interesting facts about Austin Armstrong:
Austin is scared of the ocean at night.
Austin is very religious and has faith in Jesus Christ, who he believes to be the savior.
His dream job is Creating content on social media, and wants to do it in the long term.
He loves to read, watch movies and go to the beach in his free time.
He is inspired by his parents a lot.
Austin loves to be creative and utilize his hands to make things like rings out of quarters; he built a recording studio on his property from scratch, guitars, scooters, tree houses, and even knives and swords.
He knows how to play the piano and guitar.
Austin Armstrong's Social Media
Here are Austin's social media followings as of August, 2023:
Austin Armstrong's Net Worth
He has not revealed his net worth in the media yet.
He likely earns a lot through his YouTube channel, TikTok, and other social media, brand sponsorships, and revenues from his own clothing brand called Novello & Co. He also earns through his worship singing.
There is, however, no official figure or estimate as to what his net worth might be.
FAQS
Who is Austin Armstrong?
Austin is a social media influencer and content creator with over 3.8 Million followers on TikTok and 654K subscribers on YouTube, known for his videos with Allie Schnacky.
How old is Austin Armstrong?
He is 25 years old as of August, 2023. He was born October 27, 1997.
How tall is Austin Armstrong?
Austin is at a tall height of 6 ft 4 inches or 193 cm.
Is Austin Armstrong white?
No, he is of mixed ancestry. He is a mix of Caucasian, African-American, Indian and Irish.
Who is Austin Armstrong's girlfriend?
Austin Armstrong's girlfriend is Allie Schnacky. Allie is also a YouTuber and Tiktok star. The couple frequently feature on each other's social media.
What does Austin Armstrong do for a living?
He earns his living through social media platforms like Youtube, Tiktok, and Instagram and brand sponsorships. He is also a singer in a worship band along with his family.