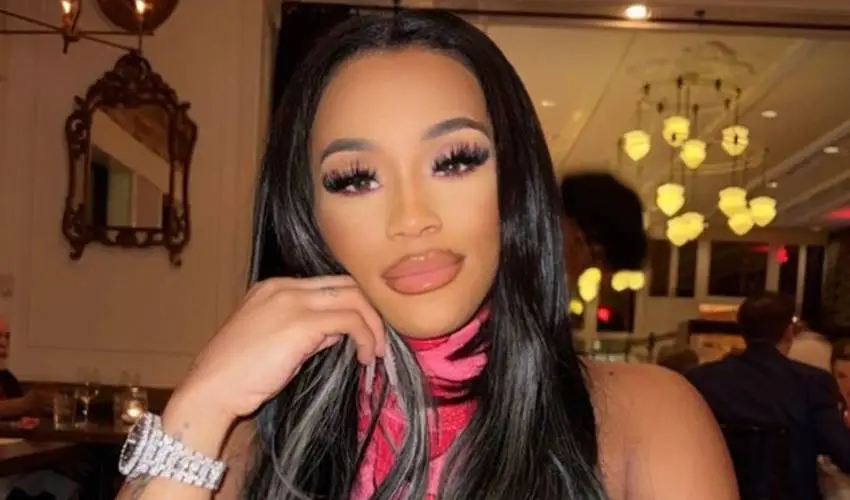 Lira Mercer, aka Lira Galore, is a Model, CEO, and Social Media Influencer with over 4.5 million followers and a net worth of $300,000 in 2023.
She's also famous for being linked with celebrities like Drake, Justin Bieber, Rick Ross, Meek Mill, and Patrick Beverly.
Her Instagram page has over 4.1 Million Followers, where she posts photos and videos. This Social Media Influencer is an Ambassador of Fashion Nova.
Lira has grabbed headlines many times for her dating life and fell into controversy with her baby daddy.
Read on to learn about Lira Galore's life, age, height, relationships, children, career, net worth, and more!
Name
Lira Mercer
Also Known as
Lira Galore
Date of Birth
August 31, 1993 (Age 29)
Place of Birth
Houston, Texas
Zodiac sign
Virgo
Gender
Female
Height
5 ft 5 inches (165 cm)
Profession
Instagram Influencer, Model, CEO
Nationality
American
Religion
Christianity
Ethnicity
Black
Father
Terrence
Mother
Michele Mercer
Sibling(s)
Tyree Mercer (brother)
Anitra Mercer (deceased sister)
Marital Status
Not Married
Children
2
Net Worth
~$300,000 (Est.)
Table of Contents
Lira Galore's Age
Lira was born to her parents on August 31, 1993, in Houston, Texas, United States. As of 2023, she is 29 years old.
Lira Galore's Height & Weight
Lira stands at an average height of 5 feet 5 inches or 1.65 meters or 165 centimeters. Her body weight is 60 kgs or 132 lbs. She is physically fit and attractive as she is a model.
Lira Galore's Nationality & Religion
She was born, raised, and educated in Houston, Texas, so she is an American national. She was born to African-American parents and is of black ethnicity.
She is a Christian by religion. Her zodiac sign is Virgo.
Lira Galore's Parents & Siblings
Her mother's name is Michele Mercer, and her father's name is Terrence. Lira's father, Terrence, left the family when Lira was a little child. Thus, Michele Galore brought up Lira alone.
She has one sibling, Tyree Mercer, who is a convicted felon. She had a sister named Anitra Mercer, who died in 2010 at the age of 29.
During an interview with Iyanla Vanzant for the show Iyanla: Fix My Life, the model recalled that her parents were extremely young when she was born.
They were, therefore, not prepared to take on the burden of parenting a child at the moment. As a result, her father left the house, leaving little Lira and her mother alone.
Terrence ended up marrying a white lady, with whom he later had a family, but even though they lived close to one another, he never went to see Lira.
Lira suffered through her parent's divorce, which influenced her early decisions, including dating too young and getting pregnant at the age of 14, which she subsequently aborted.
She holds her father responsible for her early lifestyle due to her challenging childhood. Lira pledged to make every effort to find forgiveness for him.
Lira Galore's Education
Lira Galore attended Worthing High School in Texas, according to internet sources. She finished high school there, but there are no records of her further academic endeavors.
She began her modeling career not long after graduating from high school. Despite receiving high accolades, Lira's life didn't turn out as most had hoped because she opted to become a stripper when she turned 18.
She claimed she wanted to earn as much money as she could in order to live a better life.
Lira Galore's Career
Despite starting out as a stripper and exotic dancer, Lira Glamore could not achieve the level of popularity she desired.
Her relationship with well-known hip-hop figures like Meek Mill improved as a result. She started starring in hip-hop music videos as a vixen after working as a stripper.
Lira, a clever and creative woman, didn't hesitate to take advantage of the chance and formed an Instagram page where she began uploading pictures of herself with A-List celebs.
Her following on the network has grown steadily since then, and as of right now, she has over 4.2 million followers.
She eventually turned into a glamor model as her fame grew even further. She has appeared on the covers of several publications, including Hip Hop Weekly in 2014.
Lira's fame soared following her appearance in Hip Hop Weekly Magazine. She has played the lead vixen in many music videos, including those for P Reigns' DnF, Rick Ross' Thug Cry, and Kendrick Lamar's King Kunta.
Lira Galore has a long history of working in the entertainment sector. The Houston, Texas-born model had previously worked as a model for Facet Studios, and in December 2014, she co-hosted their Lingerie Party.
Beyond that, Lira is friends with celebrities like Blac Chyna and Amber Rose. She expanded her resume by becoming an entrepreneur during the height of her stardom.
In 2018, she established the cosmetics brand Galore Cosmetics and the haircare brand Laid by Lira. Her company has had great success so far with sales and production.
Lira has been promoting her brand as an influencer with the help of her sizable social media following, and her business has benefited from that.
The glamor model also promoted various products on social media, including branded women's apparel and many more. On her Instagram feed, she posts images of her items.
Lira Galore's Dating History
Lira Galore has had on-and-off relationships for which she is famous with several well-known personalities, including athletes and hip-hop artists.
She had her first acknowledged romance with NFL defender Earl Thomas in 2012. In 2013, the couple broke up. 
Then Lira started dating American rapper Meek Mill following their split. A few months into their brief romance, the relationship came to an end.
In 2014, the model began dating American rapper Piles (Algernod Lanier Washington). Between 2014 and 2015, they spent around a year together before splitting up.
Lira began seeing Rick Ross shortly after they split up. The two were engaged; however, Rick Ross's parents did not accept Lira as their son's bride. After calling off their engagement in November 2015, she began dating Quavo of the Migos.
In 2018, she started dating Quality Control CEO Pierre Thomas, with whom she had her first baby. The couple broke up when Pierre cheated on her.
Currently, she is in a relationship with Rapper Rico Cash, with whom she had her second baby.
Lira Galore's Baby's Father
Following the announcement that she was expecting a child in 2018, Lira made headlines again. Her admirers were intrigued by this and enquired about the identity of her baby's father. The CEO of Quality Control, Pierre "Pee" Thomas, was eventually shown to be him.
Lira and Pee, however, had a tumultuous relationship since Pee is thought to have cheated on Lira with his ex-girlfriend Kaylar Will. Things got worse when it became known that Kaylar was also expecting Pee's child.
Even though they were engaged at the time, Lira didn't hold back while criticizing him online. She claims that Thomas cheated on her and then called off their engagement.
After that, Kaylar and Lira each had a baby a month later. Despite having a daughter together, Khalessi Aurora, and dissolving their relationship in 2019, Lira and her baby daddy continued to have issues.
In 2020, Lira filed a lawsuit against the CEO of Quality Control, charging him with abusing and neglecting their daughter while he was in charge.
Thomas, for his part, refuted the allegations on social media and accused Lira of having a cocaine addiction while posting a slew of texts he claimed to be from Lira.
However, the court had mandated neither party discuss the matter on social media. Pierre Thomas was fined $11,000 for disobeying the directive.
The judge also mentioned that fake messages had been added to the text texts he uploaded on social media. In addition, he was ordered to provide Lira with $3,500 every month in child support.
Lira Galore's Husband & Daughter
Lira is not married. She is currently dating Rapper Rico Cash.
She has two children. Her daughter's name is Khaleesi Aurora, whose father is Pierre Thomas, and her son is named Tyree Morris, whose father is Rico Cash.
Lira Galore's Net Worth
Information about her net worth is not accurately present in the public domain. However, she earns a lot from her modeling career, a career as a Social Media Influencer, and various businesses.
Lira undoubtedly has accumulated significant wealth. She leads a luxurious and extravagant lifestyle regularly on Instagram.
Lira Galore'sr net worth is estimated at around $300,000 in 2023.
Lira Galore's Social Media
Here are Lira's Social Media followings as of 2023:
FAQS
Who is Lira Galore?
Lira is a former exotic dancer, hip-hop model, CEO, Influencer, and brand ambassador of Fashion Nova.
How old is Lira Galore?
She is 29 years old as of 2023. She was born on August 31, 1993.
What is Lira Galore famous for?
She is famous as an Instagram Influencer, Hip-Hop Model, and her a dating history with big celebrities.
Who is Lira Galore's baby daddy?
Lira's two baby daddies are CEO Pierre Thomas and Rapper Rico Cash.
Who is Lira Galore dating?
Lira is currently dating Rapper Rico Cash.
What is Lira Galore's Net Worth?
Her Net Worth is estimated at around $300,000.