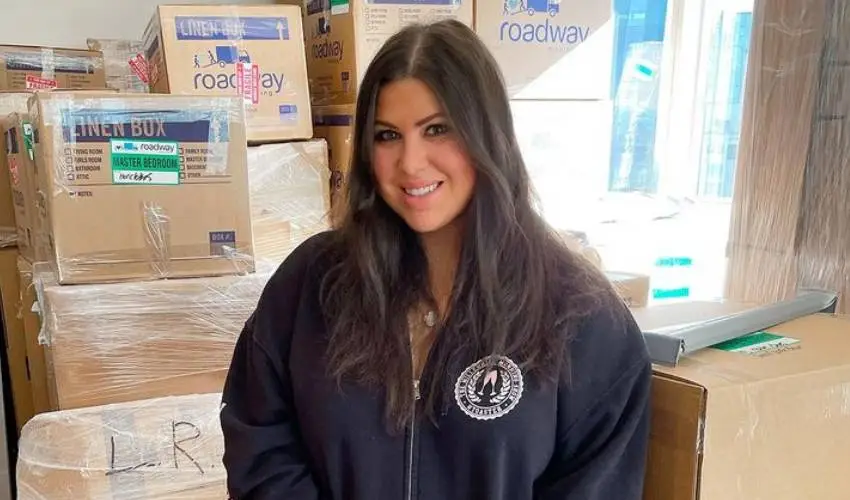 Olivia Oshry is a 32-year-old Strategic Marketer, Podcast Host, and Instagram Influencer with an estimated net worth of over $5 million in 2023.
Olivia is the eldest of the social media Oshry sisters, which include Claudia Oshry, Jackie Oshry, and Margo Oshry, and the daughter of well-known Author and Activist Pamela Geller.
She is famous for hosting 'The Morning Breath' with her sisters. She has over 98.3K followers on Instagram, where she shares her personal life, food recipes, and lifestyle with her followers.
She hosts her podcast, Maternity Liv, where she invites her friends and family to talk about everything from her personal life to her professional life and struggles of pregnancy and parenthood.
Read on to learn about eldest Oshry's age, religion, ethnicity, father, mother, siblings, education, net worth, and more!
Name
Olivia Oshry
Also Known As
Olivia
Date of Birth
July 7, 1991 (Age 32)
Place of Birth
New York City, New York
Gender
Female
Zodiac Sign
Cancer
Profession
Strategic Marketer, Podcast Host, Social Media Influencer
Nationality
American
Religion
Jewish
Ethnicity
White
Father
Michael H. Oshry
Mother
Pamela Geller
Sibling(s)
Claudia Oshry Soffer (sister),
Jackie Oshry (sister),
Margo Oshry (sister),
David Oshry (brother)
Education
Graduate
Marital Status
Married
Children
2
Net Worth
~$5 Million (Est.)
Table of Contents
Olivia Oshry's Age
Olivia was born to her parents in New York City, New York, United States, on July 7, 1991. As of 2023, she is 32 years old.
She celebrates her birthday every year with her friends and family on July 7. Her zodiac sign is Cancer.
Olivia Oshry's Ethnicity & Religion
She was raised in a Jewish family, so she is Jewish by religion.
She was born, raised, educated, worked, and married in the United States, so she is an American national. Her ethnicity is White. 
Olivia Oshry's Father & Mother
Olivia's mother is famous columnist Pamela Geller. Her father is Michael H. Oshry.
Pamela Geller is an Author, Columnist, Editor, and activist who is well-known for her vehemently anti-Islamic views. She is the Publisher of the Geller Report and the Co-Founder and President of the American Freedom Defense Initiative organization (AFDI).
Her far-right political views have made her a controversial figure. Pamela, an ardent Trump Supporter, is best known for her vehement public opposition to building a mosque close to the 9/11 memorial.
She is also notorious for sponsoring a "Draw Muhammad" cartoon contest in Garland, Texas, in 2015, which led to two suspects opening fire on a security guard before being shot and killed by police.
Her anti-Muslim views led her to get banned from entering England in 2013. The English Government issued a statement declaring that her presence would not be "conducive to the public good."
Michael Oshry was born on May 5, 1956, in a wealthy Jewish Family. He was an alumnus of Bowdoin College, graduating with honors.
After graduating from college, he joined his family business, Universal Ford, Inc., the biggest Ford vehicle and truck dealership in New York City. In 1983, he rose to the position of President at Universal Ford.
From 1992 to 1995, he served on the Greater New York Automobile Dealers Association's board of directors. From 1998 to 2005, he served as a trustee for the Greater New York Automobile Dealers Health & Welfare Trust.
He also did a stint in acting as a businessman in the 1999 movie Arthur's Quest.
He married Pamela Geller in 1990 and had five children. The couple got divorced in 2007.
He went on to marry again to a lady named Linda Karmin in early 2008. He passed away only a few months later on October 4, 2008.
Olivia Oshry's Siblings
Pamela Geller and Michael Oshry had five children: four girls and one boy.
Olivia's brother, David Oshry, is the oldest sibling. Olivia's sisters are Claudia Oshry Soffer, Jackie Oshry, and Margo Oshry. All four Oshry sisters are famous on Social Media.
The most popular of them is Claudia Oshry Soffer, who gained fame for her online reputation as a girl with no talents. Her Instagram account has over 3.2 million followers.
Jackie and Claudia host and produce their podcast, The Toast, on YouTube. They are also co-founders of Toast News Network.
Olivia Oshry's Education
Olivia completed her high school at the Ramaz School. She graduated cum laude with a Bachelor of Arts in History from New York University. 
Olivia Oshry's Career
In 2012, she started working for AOL as a Branded Entertainment Intern. She worked there for four years and seven months before moving on to Verizon Media. 
She has been working for Flowcode since 2019. She serves as the company's Head of Sales Marketing and Communications.
Olivia frequently appears on her sisters' channel, The Toast. She has her own podcast named Maternity Liv.
Olivia has a decent fanbase on Instagram, with over 98.3K followers. She shares her lifestyle, food recipes, and personal life on the social media platform.
Olivia Oshry's Wedding
Olivia married her long-time boyfriend, Zachary Shapiro, on January 1, 2019. The wedding venue was the Russian Tea Room in New York.
The event was organized by Birch Event Design. It was a beautifully designed wedding with a regal look. She has shared her wedding photos on her Instagram account.
Carolina Herrara designed her wedding dress. Many friends, family, and guests attended the wedding.
Olivia Oshry's Husband & Children
Olivia's husband is Zachary Shapiro. The couple have two children.
Their daughter, Michaela Oshry Shapiro, was born in May 2020. Their son was born in October of this year. He is named Levi Oshry Shapiro. 
Olivia Oshry's Bio
Olivia has a decent fanbase on Instagram, with over 98.3K followers. The Oshry sisters came under scrutiny when it was revealed that their mother was Pamela Geller.
The sisters declared that their views were different from their mother's anti-Muslim views and apologized for past tweets that were very problematic.
Olivia Oshry's Net Worth
There are no sources citing Olivia's net worth. We can assume she earns from her job at Flowcode and her career as an Instagram Influencer and Podcast Host.
After their father's death, all the Oshry sisters reportedly got $5 Million from his life insurance.
FAQS
Who is Olivia Oshry?
Olivia is a 32-year-old Strategic Marketer, Podcast Host, and Instagram Influencer famous for hosting 'The Morning Breath' with her sisters.
How old is Olivia Oshry?
She is 32 years old as of 2023. She was born on July 7, 1991.
Who is Olivia Oshry married to?
Olivia is married to Zachary Shapiro.
When did Olivia Oshry get married?
Olivia got married to her husband on New Year's Day, 2019.
What is Olivia Oshry's daughter's name?
Her daughter's name is Michaela Oshry Shapiro.
What is Olivia Oshry's net worth?
Olivia's net worth is estimated to be over $5 Million.