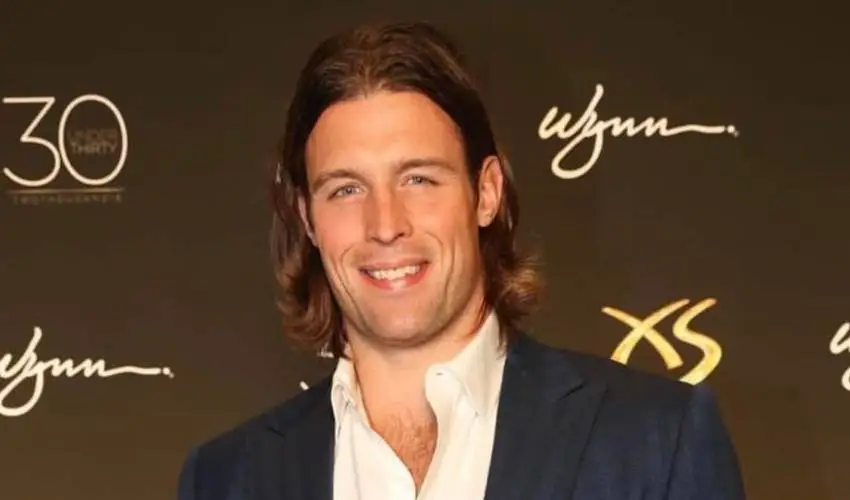 Robert Breedlove is an American Crypto Entrepreneur, Author, Philosopher, and YouTuber with a net worth of $5 million and 525K followers in 2023.
Robert founded and established Parallax Digital, a financial and Bitcoin consultancy business. He is an economic and operations professional (CEO/CFO/COO/CIO).
He spreads knowledge about cryptocurrency and finance. He connects Crypto with his goal of promoting freedom for everybody.
Read more about Robert's age, height, education, career, personal life, and net worth!
| | |
| --- | --- |
| Name | Robert J Breedlove |
| Also known as | Robert |
| Date of Birth | January, 1986 (37 Years) |
| Place of Birth | Chattanooga, Tennessee, US |
| Zodiac sign | Capricorn/Aquarius |
| Gender | Male |
| Height | 6 ft (182 cm) |
| Education | Graduate |
| Profession | Entrepreneur, Philosopher, Author, and Bitcoin Expert |
| Nationality | American |
| Religion | Christian |
| Ethnicity | White |
| Father | Randall J Breedlove |
| Mother | Susan Breedlove |
| Marital Status | Married |
| Children | 1 |
| Net Worth | ~$5 Million (Est.) |
Table of Contents
Robert Breedlove's Age
Robert J. Breedlove was born to his parents in January 1986 in Chattanooga, Tennessee, United States. As of 2023, he is 37 years old. His exact date of birth is not known.
Robert Breedlove's Height
There is very little information about Robert's height and weight in the public domain. According to some unverified sources, he is 6 ft. or 182cm or 1.82 m. We will update you as we get more information.
Robert loves to work out and often posts his pictures on Instagram. He has a very tall and fit physique. He has light brown hair and grey-colored eyes.
Robert Breedlove's Religion & Nationality
Robert was born and raised in Chattanooga, Tennessee, United States. Therefore, he is an American national. His ethnicity is White-Caucasian.
He was born into a Baptist Christian family and is Christian by religion.
He grew up as a Southern Baptist, and his family regularly attended church. 
He liked it a lot when he was young, but then, as he got into his teenage years, he started reading more about astrophysics and science. So, he became much more skeptical and atheistic. 
Then, later in life, he got into yoga and meditation, which helped him get back on a spiritual path but not religious.
He was still agnostic, and then his study into Bitcoin introduced him to Jordan Peterson. He started to read Jordan Peterson's books, watch his lectures, and understand the psychological significance of the Bible.
Robert feels that Jordan bridges that gap between science, religion, spirituality, and disciplines, blending mythology. He got reacquainted with faith again after that. He started rereading the Bible.
His zodiac sign is Capricorn/Aquarius. As we don't know his exact date of birth, we can only guess from his birth month.
Robert Breedlove's Family
Robert's father's name is Randall J. Breedlove, and his mother's is Susan Breedlove.
Only a little information about Robert's family is available in the public domain. It is not known if he has any siblings.
Robert Breedlove's Education
Robert holds a Bachelor of Science in Accounting and Finance and a Master's in Accounting from the University of Tennessee Haslam College of Business. He graduated from university in 2009.
Between 2008 and 2009, he volunteered at Habitat for Humanity International as part of a construction crew.
Robert Breedlove's Wife – Is He Married?
Robert is married to his wife and has a daughter. He has posted pictures of his daughter on his Facebook. However, the media does not reveal his wife and daughter's identities.
He does not share much about his private life on social media. He likes to keep his personal life confidential.
Robert Breedlove's Wiki
Robert had no idea what he wanted to do when he grew up. He knew that he wanted to be a businessman.
Right after finishing college, he became a Certified Public Accountant for 
several years, where he was doing tax strategies for high-net-worth individuals and investment partnerships.
Breedlove has worked for companies like LBMC, Xpert Exposition Services, SkyWire, and Carepoynt. He served as an Entrepreneurial Consultant at LBMC from 2009 to 2011.
From 2011 through 2014, Robert was the Chief Financial Officer of Xpert Exposition Services. Later, he worked for SkyWire and Carepoynt, serving in the same position.
Robert Breedlove's Podcast
Robert is also a YouTuber and Podcaster with his show called "What is Money?" Show which he hosts.
His self-titled YouTube channel has over 112K subscribers and over 6 million views as of 2023. His most popular video has over 320K views.
Robert Breedlove – Bitcoin
Robert realized that his career path was way too linear and predictable, so he decided to get a bit more risky and went out on the entrepreneurial approach instead.
He mainly had a career focused on tech. Then, it was around 2014 when he started investing personally in crypto assets. He became absorbed in the Crypto space over time.
He is the Founder and CEO of Parallax Digital, a Bitcoin-focused Consulting Firm. He founded this firm in 2017.
Robert Breedlove's Books
Robert is the author of the popular book, 'Thank God for Bitcoin: The Creation, Corruption, and Redemption of Money.'
His other publications include, 'Bitcoin and the Tyranny of Time Scarcity,' 'The Number Zero and Bitcoin,' and 'An Open Letter to Ray Dalio re: Bitcoin.'
Robert Breedlove's Net Worth
Robert likely earns money from his career as CEO of his company and other business ventures and investments. He also likely earns royalties from his publications.
Other sources of income include his career as a YouTuber, Podcaster, and Social Media Personality, getting paid from affiliations, sponsorships, and ads.
There is no information about his net worth from verified sources. As of 2023, Robert Breedlove has an estimated net worth of $5 million.
Robert Breedlove's Social Media
Robert's knowledge of Crypto has gained him over 525k followers online. With 337K followers on Twitter, 112K subscribers on his YouTube channel, and 59K followers on Instagram, Robert has spread his knowledge to huge masses.
Here are Robert's Social Media followings as of 2023:
FAQS
Who is Robert Breedlove?
Robert is an American Entrepreneur, self-proclaimed freedom maximalist, ex-hedge fund manager, and a Cryptocurrency Expert with a Net Worth of $5 Million.
How old is Robert Breedlove?
He is 37 years old as of 2023. He was born in January 1986.
Is Robert Breedlove married?
Where does Robert Breedlove live?
He currently lives in Santa Monica, California, United States.
What is Robert Breedlove's net worth?
In 2023, his net worth is estimated at around $5 million.