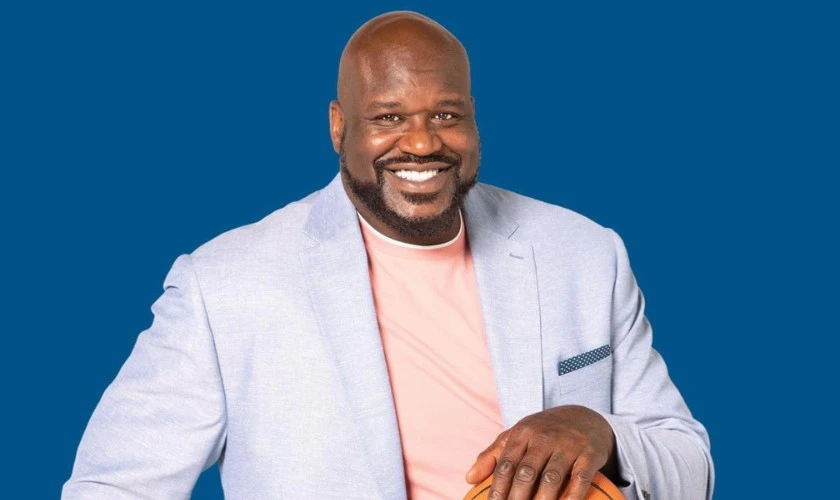 Shaquille Rashaun O'Neal, aka Shaq, is an American former professional basketball player. Shaq has an estimated net worth of $400 million in 2023. He made $292 million from his salary and $200 million from endorsements during his NBA career.
Shaquille O'Neil ranked 10th on the list of Forbes's highest-paid athletes of all time, with $735 million throughout his 19 years career.
| | |
| --- | --- |
| Name | Shaquille Rashaun O'Neal |
| Nickname | Shaq, DJ Diesel |
| Date of Birth | March 6, 1972 (50 Years) |
| Place of Birth | Newark, New Jersey, USA |
| Gender | Male |
| Height | 7 ft 1 inch (2.16 meters) |
| Profession | Former Basketball Player, Entrepreneur, Actor, Rapper & Television Producer |
| Nationality | American |
| Religion | A People Person (Muslim, Jewish, and Buddhist) |
| High School | Fulda American (Fulda, Germany), Robert G. Cole (San Antonio, Texas) |
| College | Louisiana State University (Bachelor's Degree), the University of Phoenix online(Master's Degree), and Barry University in Miami(Doctorate's Degree) |
| Father | Joseph Toney (Biological Father, a visual artist), Phillip A. Harrison (Adoptive Father, an army sergeant) |
| Mother | Lucille O'Neal (Doctor, Author, Spokesperson, and Socialite) |
| Brother(s) | Jamal O'Neal |
| Sister(s) | Ayesha O'Neal and Lateefah O'Neal |
| Spouse(s) | Shaunie O'Neal (m. 2002; div. 2011) |
| Children | Shareef, Shaqir, Amirah, Me'arah, Myles, and Tahirah |
| Playing Career | 1992 – 2011 |
| Position | Center |
| Number | 32, 34, 33, 36 |
| Number of Teams | 6 Teams during 19 Years |
Shaq signed the biggest contract in NBA history at that time, a deal worth $120 million for 7 years with the Los Angeles Lakers.
Shaquille O'Neal Made $292,198,327 From His NBA Salary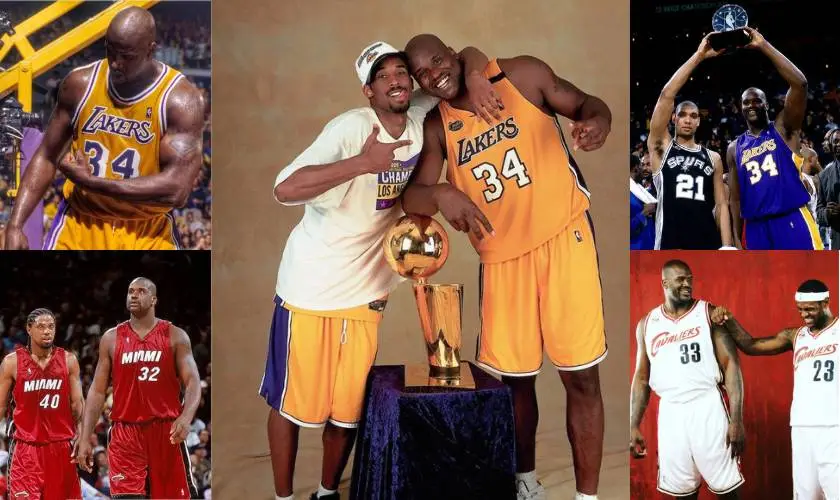 1. Orlando Magic
Shaq started playing professional basketball for his college team LSU Tigers, and played three seasons there. Orlando Magic drafted him into NBA with the first overall pick in 1992.
Shaq played in the NBA for 19 years, from 1992 to 2011, on 6 teams. From his first season, he made $3 million. The highest he made was $27 million in 2004-05, and the lowest was $1,352,181 in 2010-11.
He eventually became one of the best centers in the league, winning Rookie of the Year in 1992-93. He played for Orlando Magic from 1992 to 1996 and led his team to the NBA finals in 1995.
According to NYTimes, Shaq signed a $40 million contract with Orlando Magic for 7 years.
| | |
| --- | --- |
| Year | Salary |
| 1992-93 | $3,000,000 |
| 1993-94 | $3,900,000 |
| 1994-95 | $4,800,000 |
| 1995-96 | $5,700,000 |
| Total | $17,400,000 |
2. Los Angeles Lakers
Shaq finished his 4-year rookie deal of $17.4 million with the Orlando Magic in the 1995-96 season, and he was offered a $54 million deal over four years, which was $13.5 million per year. The Magic revised the offer to a $69 million deal over 7 years.
Los Angeles offered Shaq $98 million over 7 years, and then Magic revised the offer again to $80 million over 7 years. But Shaq was expecting a $20 million per year deal.
Finally, He signed the biggest NBA contract of the time for $121 million over 7 years with the Los Angeles Lakers. He managed to coax $23 million more from the Lakers.
| | |
| --- | --- |
| Year | Salary |
| 1996-97 | $10,714,000 |
| 1997-98 | $12,857,143 |
| 1998-99 | $9,146,341 |
| 1999-00 | $17,142,858 |
| 2000-01 | $19,285,715 |
| 2001-02 | $21,428,572 |
| 2002-03 | $23,571,429 |
| 2003-04 | $24,749,999 |
| Total | $138,896,057 |
By 2003, his first contract with the Lakers had expired. He signed another contract with the team for $88.5 million for the next three seasons. But the deal lasted for only one year.
Shaquille O'Neil led the Lakers to three consecutive titles from 2000-02.
3. Miami Heat
Shaquille O'Neil left the Los Angeles Lakers due to personal differences and arguments over the respective roles of him and Kobe Bryant on the team.
Shaq signed a $100 million over 5 years contract with the Miami Heat. The deal ensured that he would be the highest-paid player in the league, and no other player would make more than his $20 million each of the next two seasons.
| | |
| --- | --- |
| Year | Salary |
| 2004-05 | $27,696,430 |
| 2005-06 | $20,000,000 |
| 2006-07 | $20,000,000 |
| Total | $67,696,430 |
He won his fourth and last title with the Miami Heat in 2006.
4. Phoenix Suns
By the Shaq arrived at Phoenix Suns, he was already 35. He was not able to do much for the team. He played for Phoenix for 2 seasons and pocketed a $41 million salary.
Shaq once joked about getting $200 million for 2 years contract with the Phenix Suns management. But he never got that.
| | |
| --- | --- |
| Year | Salary |
| 2007-08 | $20,000,000 |
| 2008-09 | $21,000,000 |
| Total | $41,000,000 |
5. Cleveland Cavaliers
In June 2009, the Suns traded him to the Cleveland Cavaliers when he was 37. He still made a $20 million salary in his single season in Cleveland.
6. Boston Celtics
It was going to be the last season of Shaq in the NBA. He signed a $2.75 million 2-year contract with the Boston Celtics in 2010. It was not about the money; he just wanted to play one more year.
He played for only a season and pocketed $1,352,181.
He officially retired from Basketball on June 1, 2011, and after 5 years, he was exalted to the Hall of Fame.
The big Diesel spent his first million-dollar paycheck within an hour.
Shaquille O'Neil Made $200 Million From Brand Endorsements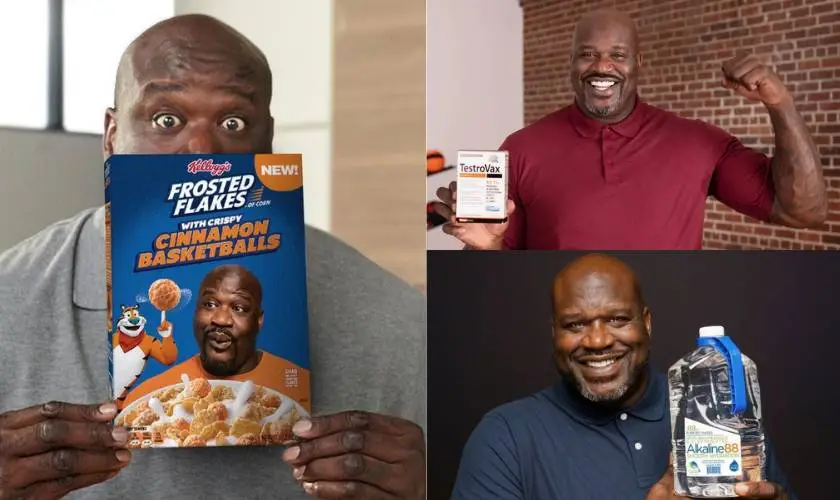 According to Investopedia, Shaq has endorsed more than 50 companies' products & services, earning $20 to $30 million yearly. He has made more than $200 million from brand endorsements.
Following are the brands he endorsed:
Burger King (Shaq Pack)
Wheaties
Pepsi
Triple-Double Oreos
Reebok
Mr. Big
Taco Bell
Nestle Crunch
Icy Hot
Shaq Fu
Gold Bond
Buick
Vitamin Water
Luv Shaq Vodka
Drone Watches
NBA 2K
Capelli Slippers
Comcast
Monster Speakers
Spalding
Li-Ning Shoes & Apparel
Macy's Suits
JCPenney (Shaq Sneakers)
Chris Christie
Harbin Beer
Dunkman Shoes & Apparel
Dove for Men
Muscle Milk
Nintendo DS Tomodachi Life
Little Shaq Books
Arizona Beverage's Shaq Fu Puch
Tiger Woods PGA Tour
Arizona Beverage's Soda Shaq
Radio Shack
Soupman
Zales
Toys R Us
BlackPhone
24-Hour Fitness
Audemars Piguet Watches
Tout
Apollo Jets
Callsnap App
Shaqdown App
Enlyten Diet Strips
Glucose's Quick Sticks
iGo Headphones
Power balance Bracelet
Sleep Apnea Mask
Susta Sugar Substitute
Shaq spent $9 million of his $10.9 million salary in a day when he first came to LA.
Shaq's Businesses, Companies, and Investments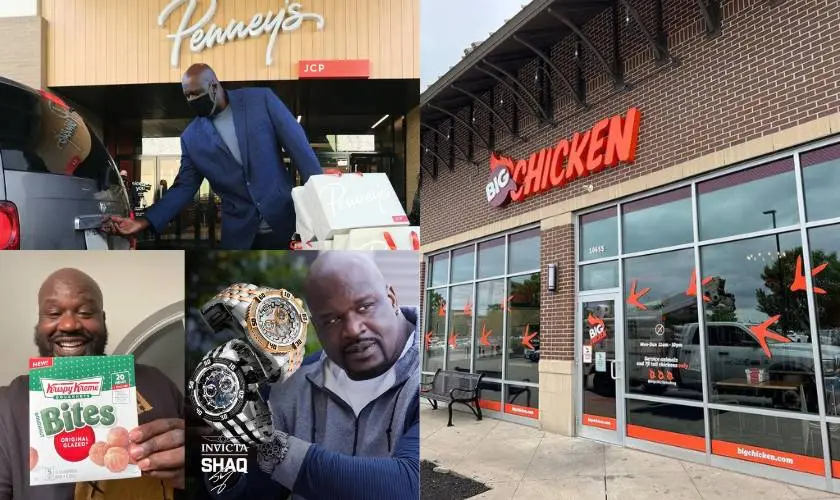 Some studies suggest that 60% of NBA players go bankrupt after 5 years of retirement, but this was not the case with Shaq.
After retiring from NBA, He has some other plans. He started investing in businesses and companies with products that people consume at least daily and that are easily available.
Earlier, he used to own franchises estimated worth about $100 million. But he has sold most of them now.
1. 155 Five Guys Restaurants
Shaq bought the 155 chains of the Five Guys restaurant across North America. It was 10% of Five Guys' total stake, and he must have spent tens of millions for that.
According to frnachisehelp.com, the average cost of opening your franchise is about $300k to $700k. If we calculate using its median, then $500k multiplied by 155 becomes $75 to $80 million.
He was making serious money from there, expecting $1 million from every franchise on average. But, he sold all his franchises to start his chicken sandwich brand Big Chicken.
2. 9 Papa John's Locations
Shaq owns 9 Papa John's locations across Atlanta. He has appeared in commercials promoting the brand and has been a brand ambassador & board member since 2019.
In 2019, the brand signed a deal worth $8.5 million, in which $4.125 million would be paid as cash payments over three years, and granted him 87,136 shares of stock worth $4.4 million.
Papa John and Shaq have signed a 3 years brand endorsement deal for $5.63 million in 2022. The brand can use Shaq's name, nickname, voice, images, videos, likeness, etc., to promote the brand.
55,898 in restricted stock, also granted to him worth about $5.6 million. The endorsement deal is worth about $11 million, including cash payments & stocks.
Shaq will receive a fee of $0.20 per Shaq-A-Roni pizza if the number of royalties exceeds the contractual payments for that year.
Shaq bought into a joint venture partnership with Papa John's on 9 locations in Atlanta. He paid $840,000 at 30% interest in that partnership. At that time, 9 locations were valued at $2.8 million.
3. 17 Auntie Anne's Stores
Shaq used to own 17 Auntie Anne's stores. He bought his first Pretzels store back in 2007. His franchise group partnered with V&J to open six Aunty Anne's stores across Detroit in 2007.
But now he has sold his Auntie Anne's store. It is unclear if he has sold all the locations, but he concluded by saying, 'Black people don't like pretzels that much.'
It is estimated that each franchise cost him $380,000. If we calculate this, he invested more than $6.5 million there.
4. 150 Car Washes
Shaq owns 150 car washes in Atlanta, known as Auto Spa Bistro. He makes good money from there. He once misappropriated $250,000 of profit from his car wash business. He said: 
"I was an irresponsible business owner. I had other money coming in; I was just having too much fun. I would get the coins and quarters, just take them home, and put them in my safe. So much money was coming in, and I didn't think you could take quarters and dimes to the bank like that. I didn't want them to think I was breaking into vending machines."  
5. Big Chicken
In Las Vegas, Big Chicken, a fast-casual chicken restaurant, was started by Shaq in 2018. It is backed by a dream team of partners, JRS Hospitality and Authentic Brands Group(ABG).
This company has 200 new franchises in the pipeline. His massive food venture costs between $450,000 to $1.4 million per location.
6. The $40 Million Reebok Story
In 1992, Shaq began his relationship with Reebok and landed a multi-year contract worth $15 million annually to wear & promote their apparel. He mutually ended the five-year deal with Reebok in 1998.
In 2016, he went from being sponsored by Reebok to becoming a part-owner owner. He became the second-largest shareholder in the Authentic Brands Group(ABG), a company that acquired Reebok.
He had a $40 million deal with Reebok for his shoes, but he turned down the deal as a mum scolded him for selling such high-priced shoes that fans could not afford. He went to Walmart, made a deal, and sold more than 400 million pairs of shoes.
Reebok officially reunited with Shaquille and brought back the 'Shaq Attack' on shelves in September 2022.
7. $10 Million Per Season For 'Inside The NBA.'
His contract as a commentator of "Inside the NBA" paid him a whopping $10 million per season. 
Warner Bros. Discovery Sports announced that TNT's Inside the NBA show 4 co-hosts, including Shaquille, have re-signed to work for the long run. Some reports suggest that they're offered deals of 10 years, and the amounts are in the nine-figure range and could be close to $200 million.
8. Other Businesses and Investments
Shaq bought a 2% to 4% minority stake in the Sacramento Kings team in 2013 at a valuation of $534 million. But he had to sell it due to the other business venture and deal with Wynnbet. Some reports suggest that he sold his stake roughly at a valuation of $1.8 billion, which means he made about $36 to 72 million.
O'Neal is the second largest shareholder of ABG (Authentic Brands Group), A company behind the dozen of brand acquisitions, including Forever 21, Barneys New York, JC Penney, Reebok, etc.
Shaquille owns 40 24-Hour Fitness Centers in the Atlanta area. He has been involved with 24-Hour fitness since 2013.
He has been a promoter of Krispy Kreme donuts. He said in an interview that he loves donuts, and Krispy Kreme is his favorite. He bought a store in 2016.
He invested $1 million in Google in 1999 in its series A funding round at a valuation of $100 million. Now the company is worth more than a trillion.
Shaq revealed that he invested $1 million in Apple back in 2004. He invested in another tech company Ring later acquired by Amazon.
He made investments in other businesses like Lyft ( a ride-sharing app), JC Penney(a midscale American department store chain), Gold Bond (a brand of over-the-counter skin care products), The General Insurance (a licensed insurance agency), and Forever 21 (a multinational fast fashion retailer).
He co-founded Majority, an ad agency focused on turning the minority into the majority.
Shaq owns Shaquille O'Neil's Motors, a source for buying pre-owned vehicles. He also served as the head manager of the company.
In 2020, Shaq put his 244 watch collection line, Invicta X SHAQ, on the market with Invicta, a Swiss watch brand, with prices ranging between four figures. 
According to Crunchbase, Shaq made 6 personal investments. He has exited from Google. He holds 4 board and advisor roles in companies like forest Road Acquisition, Steady and Loyal.
The following are the invested companies:
Limbo
MaxPro Fitness
FORTO Coffee Shots
Oura
NRG eSports
Google
Shaq has the biggest purchase of $70,000 from Walmart in his name in a single visit.
Shaquille O'Neal's Real Estate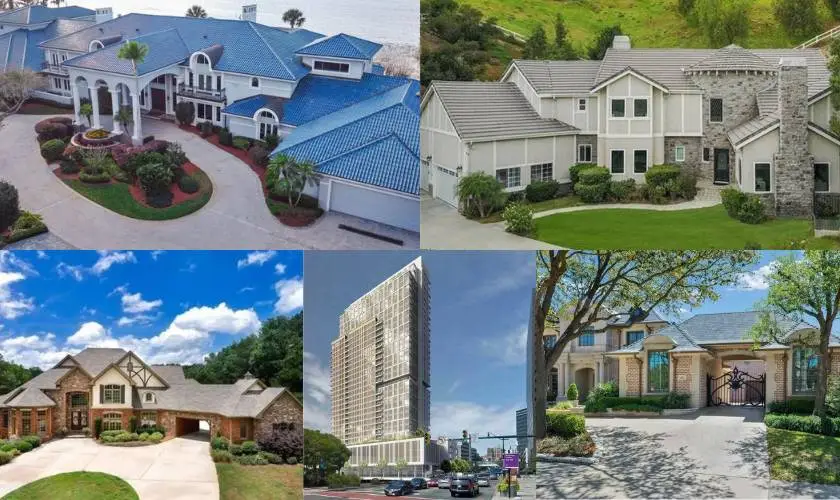 Here I have listed all the homes that Shaq owns and used to own. He is known not only for the franchises he owns but also for his real estate investment portfolio.
1. $80 Million 'The Shaq Tower.'
Shaq built a 22-story luxury tower in Newark, officially named 50 Rector Park and nicknamed 'The Shaq Tower.' He built the 50 Rector apartments with a Newark native, and Boraie Development cost him about $80 million.
The building has gyms, rooftop cabanas, amenities room, and grills for residents at its 168 units. The Big Diesel Shaq himself keeps the penthouse.
2. $11 Million Lakeside Florida Mansion
Shaq bought his lakeside Florida mansion in 1993 for about $4 million. It is a 31,000 sq. ft. 12 bedroom and 13 bathroom home near Orlando, having a 6,000 sq. ft. of Miami Heat-themed basketball court, a 95-foot swimming pool, 17 car garages, a movie theater, and a recording studio.
He sold this mansion back in October 2021. He first listed the selling price at $28 million and later revised it to $16.5 million. But he sold it for $11 million, 60% less than the initial ask.
3. $18.8 Million Home on Florida's Star Island Drive
Shaq bought a 19,400 sq. ft. home, sitting on 2.5 acres, in 2004 for $18.8 million, having eight bedrooms, a gym, a steam room, a sauna, and an indoor basketball court.
But he sold this home on Florida's Star Island Drive in 2009 for $16 million when he was traded between different teams.
4. A Million-Dollar Mansion In Texas
Shaq bought a European-Inspired home in Carrollton, Texas, in early 2022. The final selling price is unknown, but the property was listed for less than $1.22 million.
It is a 5,300 sq. ft. European-inspired home with 5 bedrooms, 5 bathrooms, 2-half baths, three living & two dining areas, 3 car garages, a home theater, and a rock wall waterfall.
5. A Home In Collin Country
In mid-2022, he made another real estate purchase. He bought a home in Colling country mainly to expand his Big Chicken chains to Texas. It is a home on a 0.228-acre lot with a huge primary bedroom, bathroom, kitchen, and a backyard with a large pool & waterfall.
6. $2 Million Las Vegas Home
Shaq bought a 1-acre private compound near Wayne Newton's former estate in the southeast valley of Las Vegas for $2 million. He sold the Southern Highlands home that he bought pre-pandemic and made this purchase.
It is a 2-story 5980 sq. ft. 5-bedroom residence located east of Sunset Park; it closed the deal on July 9, 2021, for $1.95 million.
He later listed this two-story house on the market for $3 million in May 2022.
7. $1 Million Southern Highlands Home
Shaq bought a home pre-pandemic for $765,000 near the intersection of Southern Highlands Parkway and Valley View Boulevard. It is a 5440 sq. ft. home built in 2006 featuring a swim-up bar, upgraded countertops, and renovated cabinets.
The property was listed under the name of O'Neil's trust, later sold in June 2021 for $1 million.
8. $1.15 Million Metro Atlanta Compound In Georgia
Shaq bought the metro Atlanta compound 30 miles southeast of Atlanta at 279 Bryans Drive in McDonough, Ga., for $1.15 million. It is two homes, and a three-stall barn estate sits on 14. acres.
The main home, built in 2008, has five bedrooms, six full baths, two half baths, a 12-seat home theatre, a craft room, and an exercise room.
The second home has three bedrooms and two bathrooms.
9. $1.5 Million McDonough Properties
Shaq bought the two McDonough properties. One he bought in February 2020 for $1.125 million is a 9,148-square-foot home with five bedrooms and eight baths.
Another is a much smaller home of 4635 sq. ft with five bedrooms and four baths, which he bought in July 2021 for $387,500.
10. $1.85 Million Bell Canyon, CA Home
The big diesel used to own a 5217 sq. ft home in the Los Angeles-adjacent gated community of Bell Canyon. It is a two-story home with five bedrooms, five bathrooms, a pool, a stunning kitchen, and a media room.
He bought the house for $1.815 million in 2018, listed it on the market for $2.5 million in 2019, and sold it for $1.85 million in 2021.
11. $16 Million Miami Home
After living for 20 years in Orlando, he sold his home in October 2021 for $11 million, which he bought in 1993 for $4 million.
He decided to live in Miami, and guess what? He dropped $16 million on the house in Maimi. The house has a garage, a pool, a home theatre, and a huge number of rooms.
12. His Other Estates
He sold a home in Beverly Hills, Los Angeles, in 2004 for $6.4 million.
A Turnberry Place condo known to belong to O'Neil was listed in the trust's name, originally bought for $670,000 in January 2019, and sold in February 2020 for $677,000.
In March 2014, He sold his Mount Dora, north of Orlando, home for $240,000. It is a 3,904-square-foot home with five bedrooms and four baths.
He has owned a Los Angeles pad for 22 Years that he bought in December 2000 for $654,000. It has five bedrooms, 4 bathrooms, and a pool.
Shaq once revealed that he used to consume 7000 gallons(about 25,000 litres) of fuel every month, which costs about $23,000.
Shaquille O'Neil's Car Collection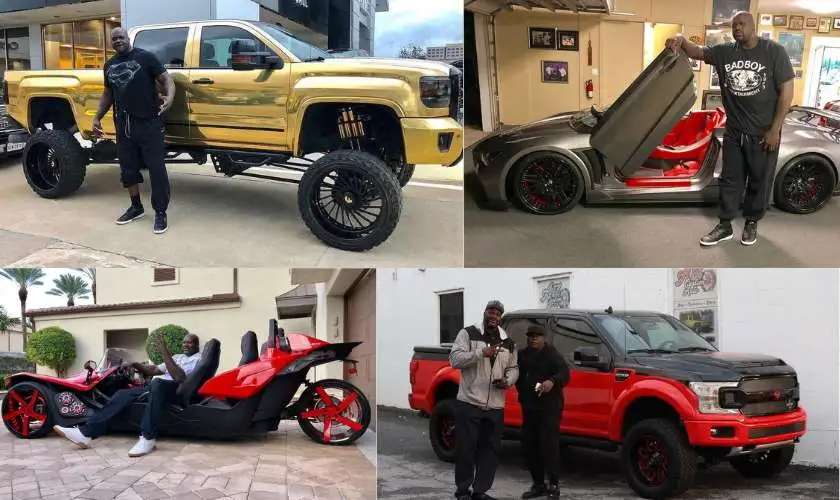 The Big Diesel is fond of owning luxury cars and spending millions on them. He has owned more than 30 cars, that's why He had 17 car garages in his Orlando home.
The first car he owned was a Ford Bronco II due to the Branco song. From his first $1 million, he bought 2 Mercedes Benz for himself and his dad worth $150,000 each, and a smaller Benz for his mom worth $100,000.
He bought 3 Rolls-Royces for $1.89 million when he felt insulted, but he never used them.
You can get an idea of his cars from his monthly gas expenses – $23,000. He literally spends $23,000 monthly on gas.
| | |
| --- | --- |
| Name | Price |
| Ford Bronco II | $25,000 |
| Jeep Wrangler | $35,000 |
| Buick Lacrosse | $35,000 |
| Vaydor Roadster | $50,000 |
| Lincoln Navigator | $66,000 |
| Ford F-150 (Gold) | $70,000 |
| Dodge Challenger Hellcat | $72,000 |
| 2021 Nikola Badger | $80,000 |
| Mercedes Sprinter Van | $80,000 |
| Dodge Challenger (Custom) | $82,000 |
| Ferrari 355 F1 Spider | $85,000 |
| Vaydor  | **** |
| Dodge Charger Hellcat (Police Special) | $86,000 |
| Ford F-650 (Custom) | $90,000 |
| Ford F-650 (Terminator Themed) | $90,000 |
| Vanderhall Venice Roadster | **** |
| Cadillac Escalade (Superman Modified Doors) | $95,000 |
| Cadillac DTS (Shaq-A-Lac) | $100,000 |
| Cadillac Eldorado Convertible | **** |
| Hummer H2S | $110,000 |
| Convertible Mercedes Benz S550 Sedan | $140,000 |
| Superman Range Rover | $140,000 |
| Customized Chevrolet Express G1500 | **** |
| Lamborghini Gallardo (Stretched) | $190,000 |
| 2020 Rolls-Royce Cullinan | $380,000 |
| Bentley Azure, Arnage, and Continental GT | **** |
| Rolls Royce Phantom | $475,000 |
| Polaris Slingshot | **** |
In 2008, O'Neil's NBA salary and business investments equated to $1.8 million per month. He spent $875,000 monthly, including $500,000 in income taxes.
Conclusion Of Shaq's Net Worth
Shaquille O'Neil is the world's fifth or sixth richest basketball player, with a net worth of $400 million. It's not because he made almost $300 million in NBA salary and $200 million from endorsements; it is because he smartly managed and invested his money.
Most athletes go bankrupt after leaving the game, but this was not the case with Shaq.
He strongly believes in investing in something that makes the world a better place. That's why he is not only a better basketball player but also a better businessman, Investor, realtor, and restaurateur.
He has a philosophy that he does not keep everything he has to himself. That's why whenever he goes to buy something, he buys someone something too.
He has donated millions of dollars to a variety of charities, including a donation of $1 million to the relief efforts for Hurricane Katrina in 2005 and $1 million donation to Haiti after the 2010 earthquake.
FAQs
What is Shaq's net worth in 2023?
Shaq is worth an estimated $400 million in 2023.
How many Papa John's does Shaq own?
Shaq owns 9 Papa John's across Atlanta and has been a brand ambassador & board member of the company since 2019.
How many cars does Shaq own?
Shaq has a collection of 30 cars, including some Ford, Cadillac, Mercedes, Ferrari, Rolls Royce, Bentley, and Lambo. He loves to add a Superman "S" logo on the front or back of the ride.
What all companies does Shaq own?
1. 9 Papa John's
2. 40 24-Hour Fitness Centers
3. 150 Car Washes
4. Second largest stakeholder of Authentic Brands Group(ABG)
5. Big Chicken
6. Majority, an ad agency
7. Shaquille O'Neil's Motors
8. He invested in 17 Auntie Anne's, 155 Five Guys restaurants, Google, Apple, Ring, Lyft, etc.
Does Shaq own JCPenney?
Shaq is the second-largest shareholder in Authentic Brands Group(ABG), which acquired JCPenny. Technically, he also owns JCPenny.
How much does Shaq make a year?
Shaq reportedly makes $60 million yearly from his Businesses, Investments, and Endorsements.
How much does Shaq make a month?
Shaq reportedly makes $60 million yearly, which means $5 million every month.
how much does Shaq make from endorsements?
Shaq reportedly makes $20 to $30 million every year from endorsements. He made $200 million from endorsements throughout his career.