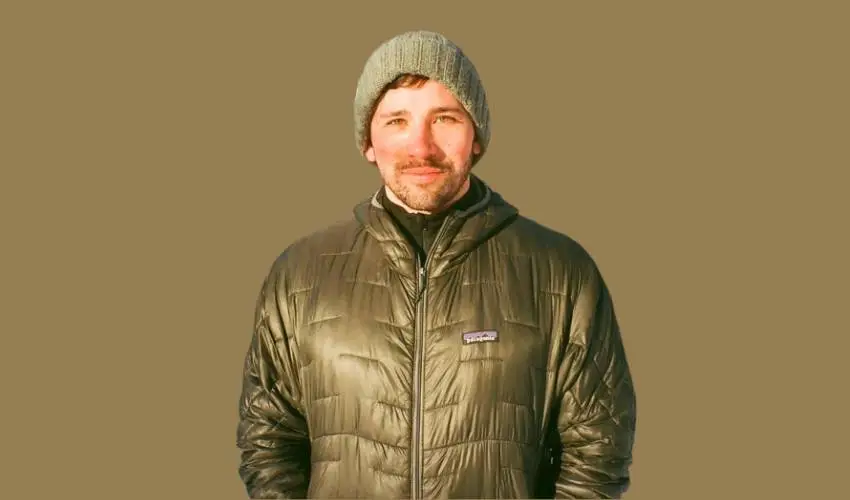 Kyle Finn Dempsey, aka Huck, from Trout and Coffee, is a 31-year-old American Photographer and Videographer with 1 million followers in 2023.
Kyle is a social media star and the Founder of Trout and Coffee Productions. He specializes in storytelling through photos and videos. He calls himself an artist who is also passionate about music and writing.
In this article, we'll talk about who Kyle from Trout and Coffee is, what he does for a living, how he started, his early life, his personal life, how much he makes, his net worth, etc.
| | |
| --- | --- |
| Name | Kyle Finn Dempsey |
| Also known as | Trout & Coffee and Huck |
| Date of Birth | April 12, 1992 (31 Years) |
| Place of Birth | Dalton, Massachusetts, US |
| Gender | Male |
| Height | Around 5 ft 10 Inches (1.77 Meters) |
| Education | Bachelor of Science (Johnson and Wales University) |
| Profession | Photographer, Videographer, Social Media Star |
| Nationality | American |
| Religion | Christian |
| Ethnicity | White |
| Marital Status | In a Relationship |
| Children | None |
| Net Worth | ~$1 Million (Est.) |
Table of Contents
Trout and Coffee's Age
Kyle Finn Dempsey was born to his parents in Dalton, Massachusetts, United States, on April 12, 1992. As of 2023, he is 31 years old.
Being a content creator, Kyle has been creating videos a day before his birthday as bookmarks for his future for the last few years. He celebrates his birthday with his longtime girlfriend, Ally.
Who is Kyle Finn Dempsey From Trout and Coffee?
Kyle was born and raised along the Westfield River in the Berkshires of Dalton, Massachusetts, United States. In childhood, he spent most of his time fishing, biking, hiking, and building forts.
He spent all his time outside and swore he could run faster than anyone on Earth then. His childhood home and river significantly influenced his art, photography, and filmmaking.
Kyle went to a local school in his hometown, Dalton. He is also passionate about writing and music. He won a free music lesson in 3rd grade, learned to play guitar, and started writing songs.
He also wrote raps and created his own music videos during high school. For that, He made a few YouTube channels in 2009, but they all failed.
After completing his high school, Kyle attended several colleges. He attended Massachusetts College of Liberal Arts and took their advertising program to use his filming skills.
He attended several colleges to learn marketing, graphic design, and advertising. Finally, he went to Johnson and Wales University and graduated with a Bachelor of Science in Creative Advertising in 2011-14.
He learned the visual aspects and creative sides of advertising and branding.
Trout and Coffee's Location
Trout and Coffee's Kyle grew up in a little red house in Dalton, Massachusetts. Now, he lives in Cummington, Massachusetts, US. He is an American national of white ethnicity.
He is a real adventurer. He does not go far away from his home. He generally films and shoots visual imagery of the Berkshires and New England Area.
Who Is Trout and Coffee's Girlfriend, Ally Brown?
Kyle Finn Dempsey is in a longtime relationship with her girlfriend, Ally Marie Brown. They have been together for years now. They travel and live together. She helps him do and manage his crafts. They share an unbreakable bond.
Ally is also a social media influencer. She runs a YouTube channel and Instagram page. She is the creator of LucidLavendrCo, a homegrown and handcrafted health and beauty brand.
She has over 11k followers, and her brand, LucidLavendrCo, has around 2.5k followers on Instagram. She has over 47k subscribers on YouTube.
Ally completed her High School Diploma from Wahconah Regional High School in 2012-16 and her BBA in Marketing from Isenberg School of Management, UMass Amherst.
She has been a marketing expert who has worked as an intern, assistant, and marketing manager at several places, including Berkshire Welco, LLC, MassLive Media, Everybody Walter, LLC, and a few universities.
Since 2021, she has been a full-time content creator and owner of Brown Enterprises LLC, an umbrella company. She manages LucidLavendrCo and also assists her boyfriend in his work.
Trout and Coffee's Wiki
During his graduation in 2013, Kyle went on a trip with his brother. After returning, He tried to sell cars at a Subaru dealership and quit it after a week.
After that, he worked as a right-hand man as a Marketing/Advertising intern at Ooma Tesoros Marinara Sauce in 2013. He worked there on and off since high school.
He worked full-time with him in early 2016 and left after a few months due to a lack of time to follow his passion, take photographs, and create videos.
He also did freelancing. After graduation, He joined Process Displays in 2014 as a Videographer. There, He films and animates videos for new product launches.
While traveling around the United States, he started putting videos on one of his YouTube channels and Instagram in the fall of 2015. Nothing was working well for him. 
Everything changed for him, and he became a full-time creator in the spring of 2016 when he found an abandoned cabin in Dalton. He used his creativity, designed the place, and made a beautiful interior.
That Instagram A-frame photo brought him fame and hit it big when Country Living Magazine posted it. He went from 10k followers to over a half million followers.
In 2017, he started his YouTube channel, Trout and Coffee, which now has over 315k subscribers with only 220 videos, gaining over 33 million views.
He uploaded the first video, Huck-Have You Listened?, on March 11, 2017, which now has over 37k views. The most-viewed video on his channel is around 3.3 million views.
Trout and Coffee's Net Worth
Kyle Finn Dempsey started working during his high school. He did some internships and freelancing before becoming a full-time photographer and videographer.
He is a YouTuber, Instagram influencer, and social media star. Now, he does paid shoots for companies and brands. He got his first paid project from a company in San Deigo when he had 25k followers.
In 2018, he created content for a real estate company. At that time, he was making more money than ever. He used that money to buy a vehicle and cabin.
He hired two friends and bought his first cabin in 2019. He stopped client work, went full-time on YouTube in 2020, and made it big through the Come Find Me series.
The same year, he started Trout and Cofee, Inc. on January 1, 2019, but dissolved it after three years on December 31, 2021. He has been working at Process Displays for about a decade.
Usually, for one Instagram post, Kyle charges $1,000 per thousand followers. He does one ad monthly in which he posts the advertisement in his feed and charges about $5,000.
He worked with a blanket brand for six months, did a photo shoot for them, and put one sponsored post on his Instagram feed. He has worked with brands like Adobe, Samuel Adams, Land Rover, Nature Valley, Samsung, etc.
Kyle sells merchandise and coffee under Trout and Coffee's name. He also owns a 2001 Land Rover Discovery and dreams of buying a condo in LA and a cabin in the Canadian Rockies.
Paid photo shoots, brand collaborations, YouTube ads, Patreon, Cameo, merchandise sales, coffee sales, etc., are a source of his income. There is no supporting data, but he estimatedly makes around $10k monthly.
As of 2023, Kyle Finn Dempsey and Trout and Coffee have an estimated net worth of over $1 million. This is an approximate figure. It can vary as it is based on estimations.
FAQ
Where is Trout and Coffee located?
Kyle is from Dalton, Massachusetts, but now he lives in Cummington, Massachusetts.
Who is Kyle Finn Dempsey's Wife?
Kyle is unmarried. He has been in a longtime relationship with his girlfriend, Ally Marie Brown.
Who is the Trout and Coffee guy?
Trout and Coffee's guy, Kyle Finn Dempsey, is a photographer and videographer. After his photos and videos went viral, he became a social media star with around a million followers.
What is Trout and Coffee's Net Worth?
Trout and Coffee has an estimated net worth of around $1 million in 2023.