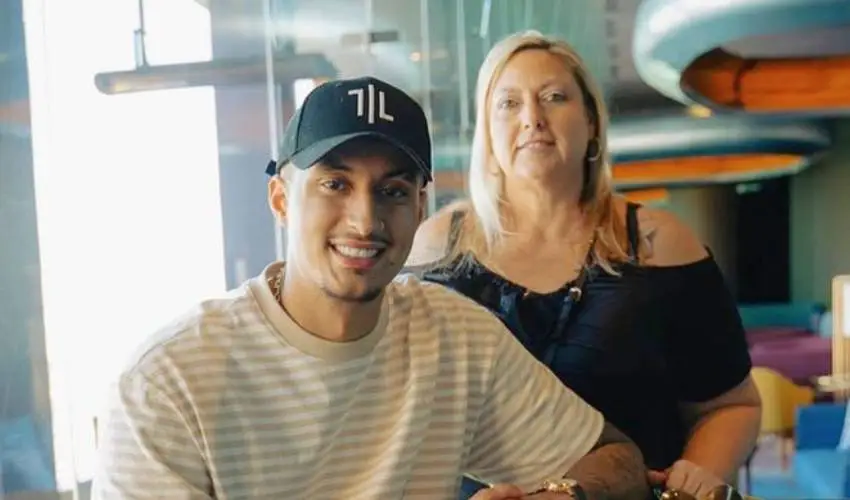 Karri Kuzma is a 50-year-old Michigan, US native. She is the mother of Washington Wizards' Kyle Kuzma, who signed a $102 million 4-year contract.
Kyle Alexander Kuzma is an American Pro basketball player. He was the 2020 NBA Champion with the LA Lakers. He has been playing for the Wizards since 2021.
Karri was a single mother who raised Kyle and his siblings while working two jobs. Her son's successful career has allowed her to retire early. She is now working on running her son's non-profit.
Read on to find Karri Kuzma's age, height, early and personal life, education, career, husband, net worth, and more!
| | |
| --- | --- |
| Name | Karri Ann Kuzma |
| Also Known As | Karri |
| Date of Birth | April 15, 1973 (Age 50) |
| Place of Birth | Otisville, Michigan |
| Gender | Female |
| Zodiac Sign | Aries |
| Education | College Drop Out |
| Height | 5 ft 7 inches (170 cm) |
| Profession | Retired |
| Nationality | American |
| Religion | Spirituality |
| Ethnicity | White |
| Father | **** |
| Mother | **** |
| Marital Status | Divorced |
| Children | 3 |
| Net Worth | **** |
Table of Contents
Karri Kuzma's Age
She was born Karri Ann Kuzma to her parents in Otisville, Michigan, United States, on April 15, 1973. As of 2023, she is 50 years old.
Karri Kuzma's Height
There are no verified sources citing her height and weight. Some sources claim that she is 5 ft 7 inches or 170 cm or 1.70 m. These numbers are not verified and might not be verified.
She has blonde hair and hazel-colored eyes.
Karri Kuzma's Nationality & Ethnicity
She was born and brought up in Otisville, Michigan. She is an American national. Her ethnicity is White-Caucasian. 
Not much is known about her religion as she has not spoken about it, but she has said in an interview that she is Spiritual. Her zodiac sign is Aries.
Karri Kuzma's Education
Karri graduated high school from Otisville Lakeville High School. In high school, she was very active. She ran track and even won the shot put competition twice. She also took part in varsity basketball and volleyball in her younger years.
She went on to get a track scholarship to study at Hillsdale College.
While Karri was a college student, she fell pregnant with Kyle. She was forced to drop out of college and raise the future NBA star on her own.
She apparently worked two jobs to make ends meet while raising her child.
Karri Kuzma's Personal Life
There's no information about Kyle's biological father. His father did not take responsibility for him and his mother. His biological father only saw him as an infant.
Karri married a gentleman named Larry Smith. Larry was the only father figure in Kyle's life for a long time until his divorce from Kerri.
Karri had two children with Larry. Kyle has two younger half-siblings, Briana and Andre Smith, resulting from his mother's marriage to Larry.
Karri's daughter Briana lists her job at General Motors as a production worker on her Facebook profile. She had previously worked as a baggage handler at Bishop International from 2016 to 2018.
Karri's youngest son, Andre, is an aspiring basketball player following the footsteps of his older brother, Kyle Kuzma. He is attending Grand Blanc High School.
The marriage between Karri and Larry was short, and both of them have moved on with different partners.
Larry married Stephanie King-Smith in July 2002.
Karri is currently with her boyfriend, Markell Tate. The pair started dating in 2021. Markell has three children from previous relationships: daughters Nakia and Jayla Tate and a son named Jamari Tate.
There is no information about Karri's parents and siblings in the public domain.
Karri was an overprotective mother. She raised her kids in Flint, Michigan, a very rough place with a high crime rate. She raised her kids as a single mother, so she had to be extra cautious. She never went out to bars or clubs to party.
She always kept an on her kids to ward off bad influences.
Karri Kuzma's Husband
Kerri Kuzma was married to ex-husband Larry Smith and had two children with him. The couple divorced in the early 2000s.
Kerri is currently with her partner, Markell Tate. The couple live together with their children. They are not married yet, and it is unclear if they will do so in the future.
Karri Kuzma's Son Kyle Kuzma
Kyle Kuzma is a 27-year-old professional basketball player who plays as the forward for the Washington Wizards of the NBA.
When Kyle was a toddler, Kerri bought him a Fisher Price Basketball Hoop. It is no surprise that Kyle was interested in basketball from a young age. 
Before moving to the Washington Wizards in 2021, he won an NBA title in 2020 while playing for the Lakers.
Kuzma is a versatile forward who can play both the power forward and small forward positions. He is a good shooter from the midrange and three-point range and a capable rebounder and passer.
He is progressing and getting more skillful in the game and carries the potential to be an All-Star in the NBA.
A few months ago, Kyle signed a four-year, $102 million contract to remain with the Wizards. He is expected to be a vital part of the Wizards' rebuilding project.
Karri Kuzma's Wiki
When Karri got pregnant with Kyle, she had to drop out of college and start working to sustain herself since Kyle's father was absent.
She worked in various management jobs, often doing multiple jobs at once. In 2006, she got a Bachelor's in Business Administration from Baker College.
She worked as an office manager at a dental practice in Davison. She started working from home as a prospective agent advocate for a dental implant company last year.
She worked in the dental industry for 15 years before getting an early retirement due to her son's successful career. According to her Facebook profile, she is also a licensed massage therapist.
Now, as a retiree, she runs her son's non-profit, The Kyle Kuzma Family Foundation. The organization aims to aid single mothers and their children.
Karri Kuzma's Net Worth
There is no verified source citing Karri's net worth. It is hard to estimate Karri Kuzma's net worth as she has worked in different odd jobs throughout her life.
She worked in the dental industry for 15 years before retiring early at the age of 50. It is pretty evident that Karri lives a conformable life now due to her son's successful basketball career.
Kyle's net worth is over $100 Million as of 2023. He earned the money after signing a four-year contract to stay with the Washington Wizards.
Karri Kuzma's Social Media
FAQS
Who is Karri Kuzma?
Karri Kuzma is the 50-year-old mother of Kyle Kuzma of the Washington Wizards, who was the 2020 NBA Champion with LA Lakers. She is a Michigan native who attended Baker College.
What is Karri Kuzma's age?
She is 50 years old as of August 2023. She was born on April 15, 1973.
Who is Karri Kuzma's husband?
Karri is a divorcee who is currently in a relationship with her partner, Markell Tate. They are not married yet.
Who is Karri Kuzma's father?
There is no information about the identity of Karri's father.
What is Karri Kuzma's nationality?
She was born and raised in Michigan. She is an American national.