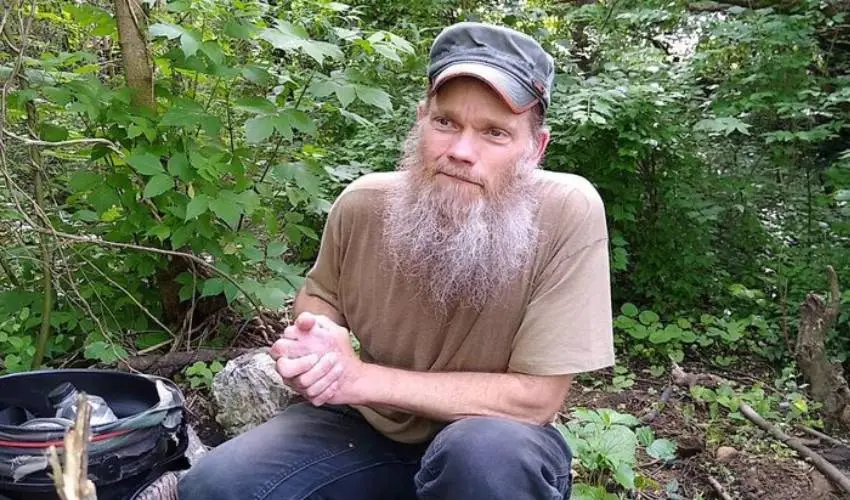 Hobo Shoestring, aka Mark Nichols, is a YouTuber, Freight Train Hopper, and Professional Hobo for three decades with a net worth of $44k in 2023.
He has been train-hopping since 1989 and has ridden almost 2,700,000 miles of steel rail in 49 U.S. states, eight Canadian provinces, and 14 Mexican states.
This former U.S. Army helicopter technician is one of just a few modern-day train hobos, a long-standing American lifestyle that peaked during the Great Depression but has since faded in favor.
He goes by the stage name "Hobo Shoestring," inspired by the words of an old Mel McDaniel country music song from the 1980s. He has over 191K subscribers on YouTube, gained by filming his adventures.
Mark spent his first 31 years homeless, traveling trains, before being forced to obtain a modest small flat in Johnson City due to his medical conditions last year.
Before relocating to Johnson City, a historic railroad center, Nichols said he would visit the Tri-Cities at least twice a year. He generally took a train from Washington, D.C., to Roanoke, Virginia, the Tri-Cities, and Knoxville, Tennessee.
Read on to learn about this rail-hopping vagabond's age, weight, education, career, personal life, and more!
Name
Hobo Shoestring
Real Name
Mark Nichols
Date of Birth
July 12, 1970 (age 53)
Place of Birth
Freeport, Texas
Zodiac sign
Cancer
Gender
Male
Height
6 ft (1.8 Meters)
Profession
YouTuber, Professional Hobo, Train Rider/Hopper
Nationality
American
Religion
Christianity
Ethnicity
White
Father
****
Mother
Karen Montgomery
Sibling(s)
Mary Nichols Throndson (Sister),
Jessie Nichols (Sister),
Ross K Nichols (Brother)
Marital Status
Divorced
Children
None
Net Worth
~$43.7K (Est.)
Table of Contents
Hobo Shoestring's Age
Hobo Shoestring, whose real name is Mark Nichols, was reportedly born to his parents on July 12, 1970, in Freeport, Texas, United States.
However, he grew up in Port Arthur, Texas, United States. As of 2023, he is 53 years old.
Hobo Shoestring's Height & Weight
Mark stands at an approximate height of 6 feet or 1.82 meters or 182 centimeters. His weight is estimated to be around 160 lbs or 72 kg.
He has short hair and a long grey beard. He has two tattoos on each of his arms.
Hobo Shoestring's Nationality & Religion
Mark was born and raised into an American family in Texas, USA; therefore, he is an American national. His ethnicity is White-Caucasian.
He was born into a Christian family; therefore, he is Christian by religion. His zodiac sign is Cancer.
Hobo Shoestring's Family
Mark's mother's name is Karen Montgomery. His father's name is currently not known. He did post a picture with his father on Facebook.
He has three siblings. His older brother's name is Ross K. Nichols. His two sisters are named Mary Nichols Throndson and Jessie Nichols.
Hobo Shoestring's Early Life & Education
Mark graduated high school from Stephen F. Austin High School in 1988. On his Facebook, it is informed that he went to Lamar University, but it is not mentioned which subject he studied in high school.
As a military family, his family moved frequently when he was a child. Before Mark graduated from high school in 1988, they relocated 28 times.
He stated that he entered the military after high school and served for around two years. He worked in Bell helicopters as a mechanic and was stationed at numerous sites around the continental United States.
Beginning of Train Hopping
After getting out of the army, Mark went straight to the rails. Once he started train hopping, it became his lifestyle. Nichols claims that his mind never shuts down and is constantly on the go.
He began rail hopping about 30 years ago. He had his first train ride while traveling through Laramie, Wyoming.
He hopped on trains and went wherever the trains took him. He went to numerous places in his life through trains, traveling to over 49 states in the U.S. and even to Canada and Mexico.
Mark spent $23 on his first trip for canned food and a loaf of bread. He also carried a half gallon of water with him for the journey. He fell in love with the lifestyle from his first trip. He knew the life of a Hobo was what his free soul needed.
However, the decision to be a train-traveling nomad was not taken well by his family. He stated that his family was first concerned about his new activities and assumed he was going through a phase.
However, Nichols continued to board trains, ending in jail a couple of times a year for trespassing, as a result of which his family made him an outcast.
Today, though, he often communicates with his family and attempts to see his mother at least once a year.
Nichols, like other full-time hobos, frequently finds work while traveling. He added that day labor may be found in major cities with populations of at least 50,000 individuals.
He frequently gets employment moving furniture from houses and storage facilities, allowing him to be paid on a regular basis rather than waiting weeks for a payday.
Hobo Shoestring's Social Media
Hobos, such as Hobo Shoestring, has earned quite an audience on social media in recent years. Mark has amassed a fan base on Facebook, Flickr, and YouTube.
He began documenting and uploading some of his excursions, including one from Bristol to Knoxville, on YouTube in recent years. His videos have received around 1.3 million views.
He claims that a few trained personnel have even complemented him on them. He loves sharing his life with his audience.
He has even opened up an online merch store with the help of some of his fans.
Hobo Shoestring's Death
Mark admits that riding trains is a risky way of life. In October 2017, he went missing, which made his fans fear the worst. A missing report on his name was created.
It soon came to light that he was injured while riding the Kansas City Southern Railroad in Pittsburg, Kansas. He fell and landed on the rail with his pinky and ring finger. The locomotive brushed up against his fingertips.
He was hospitalized for three weeks after being brought to Kansas City. He was charged with trespassing after losing two fingers in the accident.
Because of surgeries and ailing health, he had to get a small apartment in Johnson City. He dislikes spending too much time in his apartment and still goes out train hopping whenever his health does not deter him.
Hobo Shoestring's Personal Life
There is very little information regarding Mark's personal life. On his Facebook, he has put the status of a divorcee.
He seldom talks about his personal life, so there is no information about his wife. He does not seem to have any children.
Hobo Shoestring's Wikipedia
The boxcar is his favorite train car. He normally climbs up four feet to the deck of a stopped train at the local rail yard, which he describes as a 6-by-8-foot platform.
According to Nichols, he has been detained and charged with misdemeanor trespassing nearly two dozen times. He was most recently imprisoned in Regina, Saskatchewan. However, that has never deterred him from his lifestyle.
He lived with a family for some time before getting his own small apartment in Johnson City. The family took him in because their son was a fan of Hobo Shoestring.
Hobo Shoestring's Net Worth
It is hard to determine his net worth. There are no sufficient sources that inform of his net worth.
Some sources claim that, in 2023, Hobo Shoestring's net worth is around $43.7K. These numbers are not verified and might not be accurate.
His YT channel has over 191k subscribers, with around 500 videos gained over 38 million views. He uploaded the first video on August 26, 2012. His most viewed video has over 2 million views.
Mark's primary income streams include YouTube ad revenue and merchandise sales from his website. He earns approximately $2,300 per month from these sources.
| | |
| --- | --- |
| Platform | Followers |
| YouTube | 191K |
| Instagram | |
| | |
| | |
FAQS
Who is Hobo Shoestring?
Hobo, aka Mark Nichols, is a former U.S. Army soldier and notorious freight train jumper. He has a famous YouTube channel where he posts his adventures.
How old is Hobo Shoestring?
He is 53 years old as of August 2023. He was born on July 12, 1970.
How is Hobo Shoestring doing?
He is doing well. He is still train hopping and sharing his adventures on YouTube.
Is Hobo Shoestring alive?
Yes, Mark is still alive.
What is Hobo Shoestring's net worth?
His net worth is estimated to be around $43.7K. These numbers are not verified and might not be accurate.
Is Hobo Shoestring married?
Mark is a divorcee. It is not known to whom he was married and for how long.