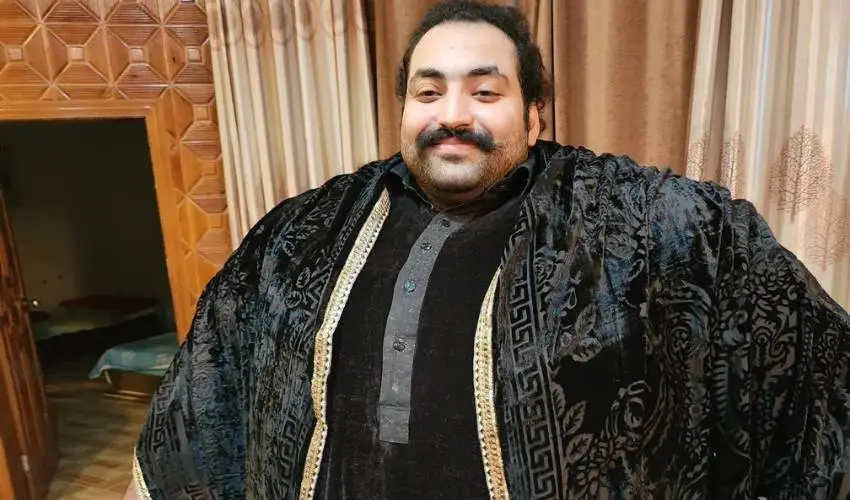 Khan Baba, aka Pakistani Hulk, is a Wrestler and Weightlifter with over 2.5 million followers and an estimated net worth of $260,000 in 2023.
He calls himself the World's Strongest Man, but is he real, or does he wear a fat suit to show his fake bulky body? What do you think?
In this article, we'll go through his early life, weight, height, diet, and controversies, try to find out if he is real or fake and expose the truth. Keep reading!
| | |
| --- | --- |
| Name | Arbab Khizer Hayat Khan |
| Also Known As | Khan Baba and Pakistani Hulk |
| Date of Birth | March 3, 1992 (31 Years) |
| Place of Birth | Mardan, KhyberPakhtunkhwa, Pakistan |
| Gender | Male |
| Height | 6 feet 5 inches (1.98 Meters) |
| Weight | 961 lbs or 436 kg |
| Profession | Wrestler, Weightlifter, and Social Media Personality |
| Nationality | Pakistani |
| Religion | Muslim |
| Education | Matriculation at Mardan Model School and Abdul Wali Khan University |
| Father | **** |
| Mother | **** |
| Marital Status | Unmarried |
| Net Worth | ~$260,000 (Est.) |
Table of Contents
Khan Baba's Wikipedia
Khan Baba, real name Arbab Khizer Hayat Khan, is a Pakistani wrestler, weightlifter, and YouTuber. Arbab was born in Mardan, Khyber Pakhtunkhwa, a province in Pakistan's northwestern region.
Arbab completed his Matriculation at Mardan Model School in Mardan, KPK. He attended Abdul Wali Khan University in Mardan for his higher education.
Khan Baba's Age
Arbab was born on March 3, 1992. As of 2023, he is 31 years old. He celebrated his 31st birthday with family and friends.
Khan Baba's Height
He trained under Sheikh Khan and debuted in wrestling in 2016. He is 31 years old and stands at 6 ft 5 inches or 195 centimeters or 1.95 meters.
Khan Baba's Weight
He is so big that he does not fit in a small car and needs an SUV. His weight suddenly started increasing when he was 18 and continuously increasing since then, and he now weighs 961 pounds or 436 kilograms.
He never faced any issues with increasing weight; he maintained it with a diet. Once he said, "I don't have any disease, nor do I feel uncomfortable with my weight."
He recalled in an interview, "One time, my father gave me a vehicle, and once I sat in the back seat, the rear axle broke. I was too shy, but my father laughed and took it lightly."
He claims to consume more than 10,000 calories every day. For breakfast, He daily eats:
36 eggs
Four chickens
3 kilograms of red meat
5 liters of milk
He has been taking this diet since his increased weight and has never faced any health issues. He claims to be preparing for the weightlifting championship, and the local people of Mardan look at him as a hero.
He wants his weight to reach 500 kg, can stop a tractor with one hand, and exercises for three hours daily.
Khan Baba's Wife
Khan Baba is unmarried, and his parents want him to get married. He has seen and rejected more than 300 girls in the last seven to eight years, but they were all an average weight.
He is a 70-stone weightlifter and would consider a bulky partner to avoid being squashed.
Khan Baba's YouTube Channel
He runs his YouTube channel. He started his first channel on October 21, 2018, on which he uploaded his daily life vlogs and completed eating and power challenges.
He uploaded over 100 videos and had over 400k subscribers in 4 years. YouTube awarded him with a Silver Play Button. But that was deleted recently. His videos had more than 120+ million views; per the sources, his channel made more than $15k per month and $260k+ per year only from Adsense.
Now, he has started a new YouTube channel with over 13k subscribers with 250+ videos, gaining over 7 million views.
Is Khan Baba Real Or Fake?
He has been controversial from the day he went viral on social media. Some sources deny his claims of 931 lbs of weight and report him weighing only 631 lbs or 300 kg and not eating 10,000 calories during breakfast.
He is an aspiring wrestler who has wanted to enter the WWE since childhood.
He claims that he won a golden belt, and that's why he keeps challenging famous WWE superstars like The Great Khali because he knows Khali is retired and will not fight him.
Many other wrestlers have challenged him to a fight, but he never responds to them. One of Pakistan's wrestlers, Usman Bullet, went to his house, snatched his fake golden belt, and challenged him to a fight, but Baba has not responded for years.
Usman added, "He can only fake fight; he has no guts for a real fight. He seems fake since nobody has that big of a waist; hence, he got it made for himself."
All in all, everyone considers him a fake wrestler or weightlifter.
Find out if Gigachad is real or fake by reading our article: Is Gigachad Real Or Fake?
Khan Baba From Pakistan – World's Strongest Man
Baba is also a weightlifter. He commented on the World's Strongest Man, Eddie Hall's deadlift record of lifting 500 kg or 1102 lbs, "I am lifting 600 kg as soon as possible. If I didn't pick 600 kg, I'd never call myself the strongest man in the world."
Eddie Hall also said, "I want you to fly to England, and you and I will have a slapfight." He mocks the Pakistani Hulk by wearing a funny, doll-like attire with extra clothes to look bigger like him.
Eddie has made numerous videos poking Baba about his claims. Here is the most entertaining one:
Khan Baba's Real Body / Shirtless
You will never find a photo of him shirtless showing his natural body. We searched all his social media accounts but found nothing.
It may be because he wears a fatsuit under his shirt and does not want to reveal that. Even asked by many wrestlers, he never comes shirtless.
If he has a natural body, why does he not show it? His body is just a fatsuit, nothing more than that. If he shows it, his reputation and following will come to nothing.
The above picture lets you easily differentiate whether he has a natural body. Undeniably, he has an excellent muscular physique in his young photo. Still, it's not even close to his new images.
So the main question is, Is He real or fake? Based on the facts and available information, anyone can clearly say he is fake.
Khan Baba's Social Media
He is famous across social media platforms. He has over 1.5 million followers on Facebook, 122k on Instagram, 13k on YouTube, and 831k on TikTok. In total, he has over 2.5 million followers.
FAQs
Who is Khan Baba?
His birth name is Arbab Khizer Hayat Khan. He is a wrestler, weightlifter, and YouTuber by profession.
Is Khan Baba real?
No. He is not real. He tries to look natural, but some wrestlers and weightlifters have repeatedly exposed him, like The Great Khali, Eddie Hall, Usman Bullet, etc. He never accepts their challenges.
Is Khan Baba really that big?
Actually, no, he is not that big. He does not weigh 961 pounds or 436 kilograms. He most probably wears a fatsuit.
Is Khan Baba alive?
Yes. He is alive. He lives in Pakistan and runs a YouTube channel.
Is Khan Baba wearing a fat suit?
Yes, he is wearing a fat suit. He does not have that big natural body. He does not weigh 961 lbs.