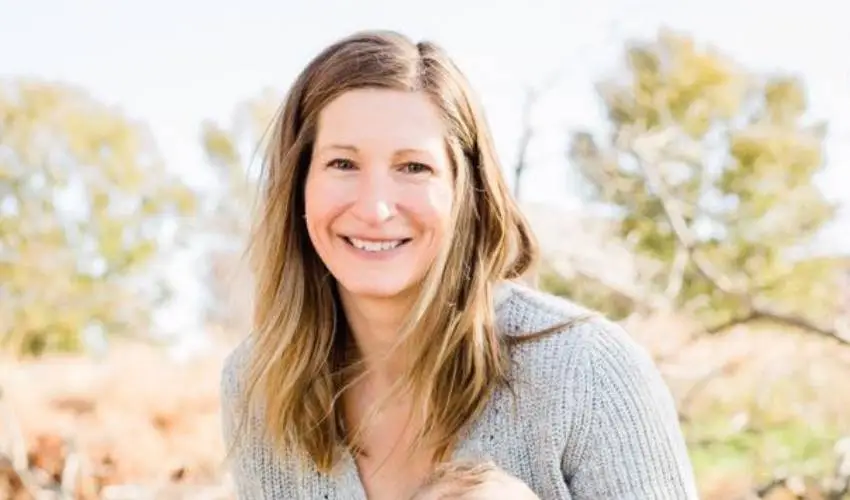 Keri Shaw, 4x World's Strongest Man Brian Shaw's wife, is an American Entrepreneur and fitness Enthusiast with a net worth of $2 million in 2023.
Brian is a retired strongman competitor hailed as one of the strongest men in history. The couple got married in 2015 and have two sons.
She was formerly married to Mike Jenkins, a fellow strongman who died in 2013 due to an enlarged heart brought on by prolonged steroid use. He was just 31 when he passed away.
Keri is the founder of Fit Mommy Academy and also works managing Shaw Strength. She has over 74K followers on her Instagram.
Read on to learn about her age, weight, education, career, ex-husband, husband, salary, net worth, and more!
| | |
| --- | --- |
| Name | Keri Shaw |
| Also Known as | Keri |
| Date of Birth | October 20, 1985 (Age 37) |
| Place of Birth | Hummelstown, Pennsylvania |
| Zodiac sign | Libra |
| Gender | Female |
| Height | 5 ft 11 inches (180 cm) |
| Profession | Entrepreneur, Fitness Enthusiast, Celebrity Wife |
| Nationality | American |
| Religion | Christian |
| Ethnicity | White |
| Father | **** |
| Mother | Susan Wells |
| Sibling(s) | Mollie Kae Ricker (sister) |
| Marital Status | Married |
| Children | 2 |
| Net Worth | ~$2 Million (Est.) |
Table of Contents
Keri Shaw's Age
She was born Keri Ricker to her parents on October 20, 1985, in Hummelstown, Pennsylvania, United States. As of 2023, she is 37 years old.
Keri Shaw's Height & Weight
Keri stands at a tall height of 5 feet 11 inches or 1.80 meters or 180 centimeters. Her body weight is 130 lbs, which is equivalent to 58 kg.
She is physically fit and lifts weights daily. She has blonde hair and brown eyes.
Keri Shaw's Religion & Nationality
She was born and raised in Hummelstown, Pennsylvania, United States, so she is an American national. Her ethnicity is White-Caucasian.
She is a Christian by religion. Her zodiac sign is Libra.
Keri Shaw's Family
There isn't much information about Keri's family in the media. After going through her social media handles, we have found that her mother's name is Susan Wells, and she has one younger sister named Mollie Kae Ricker.
There's no information about the identity of her father.
Keri Shaw's Husband, Brian Shaw
Keri's husband is retired American professional strongman Brian Shaw. Brian is considered one of the strongest athletes to ever have lived.
He kickstarted his career by winning the Denver's Strongest Man contest in October 2005 without any formal training. In just seven months, he rose to prominence by joining the professional ranks.
He won the World's Strongest Man contests in 2011, 2013, 2015, and 2016. In 2011, he made history by becoming the first person to win the Arnold Strongman Classic and the World's Strongest Man championships, a feat he repeated in 2015.
Shaw is renowned for his massive size and power. He is a massive 6'8″ and weighs close to 400 pounds. He has multiple world records to his credit in events like the Atlas Stones, Conan's Wheel, and the Deadlift.
His outstanding accomplishments have earned him a considerable fan base in the world of online entertainment, where he frequently imparts preparation advice and insights into his career as a professional strongman.
He has a YouTube channel with over 1.91 million Subscribers. He has also appeared in the show The Strongest Man in History on the History Channel.
Brian and Keri wed on July 4, 2015, after they first met in 2014. They have two sons named Kellen and Braxton.
Keri Shaw's First Husband
Mike Jenkins was Keri's first husband. He was a professional strongman competitor and taught athletics at Milton Hershey School. He was crowned champion in the Maryland's Strongest Man competition in 2007.
In 2012, he won the Arnolds Strongest Man Classic.
Mike and Keri got married in 2012. Keri was with him till his passing on November 28, 2013, at the age of 31.
Mike's usage of steroids over a prolonged period caused an enlarged heart, ultimately leading to his death.
Keri Shaw's Wiki
For ten years, Keri coached soccer and taught Math to high school students.
She now plays a significant role in the back office of her and Brian's business, Shaw Strength, which includes the Shaw Classic Strongman competition, different content platforms, gear, accessories, a membership club, and media engagements.
She founded Fit Mommy Academy, a training academy for mothers who want to be fit and active.
Additionally, this fitness academy mostly provides exercise tips and routines in an effort to encourage new mothers. She also sells various clothing items, such as sweatshirts, shirts, caps, Globes, and many other fitness gear.
In an episode of his podcast, Brian stated, "Keri runs more things behind the scenes for our companies, for me, and for our boys, than most people realize."
Fitness enthusiast Keri has posted videos of the Shaw family at home, featuring amusing training competitions between the two on her YouTube Channel.
When it comes to keeping their personal and professional lives separate while working together, Keri and Brian have admitted that it hasn't always been easy, especially when the Shaw Strength company was first operated out of the family home.
But as Shaw's Strength keeps growing, they are both pleased with how things have turned out.
Keri Shaw's YouTube Channel
In addition to running Fit Mommy Academy and other training centers, Keri has a YouTube channel with 15.4k subscribers. She created her YouTube channel in 2017 but started posting videos there in 2019.
Her first video was titled, 'Healthy Banana Muffins With her,' it has over 12K views as of now. Her most popular video is 'Shaw Family Refrigerator Tour With her' with over 189K views.
On her channel, she primarily posts videos of herself doing CrossFit exercises, challenges, vlogs, tours, day-in-the-life, food Q&A, etc.
Keri Shaw's Net Worth
Keri is a fitness enthusiast, YouTuber, and entrepreneur; her wealth and earnings reflect this.
She enjoys a respectable income from her profession and has become well-known. However, there are no verified sources citing her exact income or net worth.
In 2023, Keri Shaw has an estimated net worth of $2 Million.
Keri Shaw's Social Media
Here are Keri's Social Media followings as of 2023:
FAQS
Who is Keri Shaw?
Keri is the wife of Brian Shaw. She is the creator and director of Fit Mommy Academy, a clothing company. The fitness professional specializes in providing mothers with food and exercise suggestions.
Her spouse, Brian Shaw, is a professional American strength competitor and YouTuber. From 2011 to 2016, the four-time World's Strongest Man champion had a net worth of $27.2 million.
How old is Keri Shaw?
She is 37 years old as of 2023. She was born on October 20, 1985.
How tall is Keri Shaw?
She is 5 ft 11 inches or 180 cm, or 1.80 m tall.
Who was Keri Shaw married to?
Keri was married to fellow professional strongman Mike Jenkins.
What is Keri Shaw's net worth?
In 2023, She has a net worth of $2 Million.