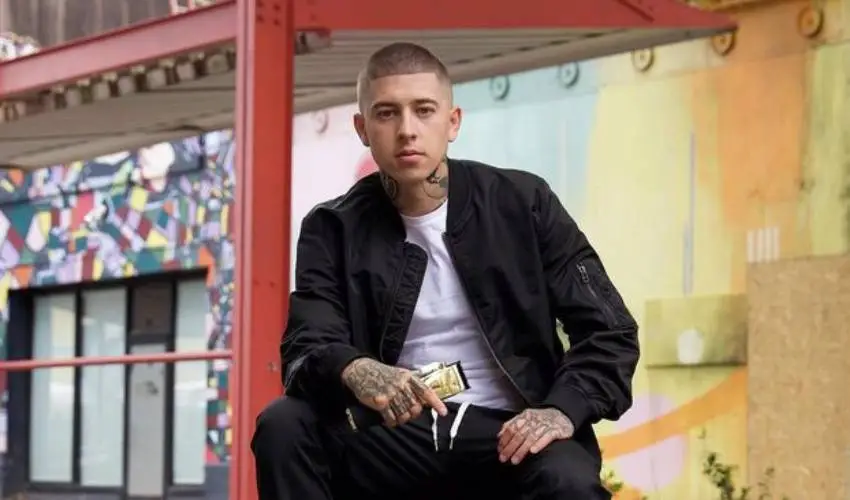 Image Credits: Instagram@vicblends
Victor Fontanez, aka Vic Blends, is a Celebrity Barber and Entrepreneur with a net worth of $5 million and over 20 Million social media followers.
This famous social media barber has over 14.2 Million followers and over 2 Billion likes on TikTok, over 2.5 Million followers on Instagram, and 1.93 Million subscribers on his YouTube channel.
Rappers NLE Choppa, Nelly, and Lil Baby were among his clients, and NBA stars Trae Young and Dennis Smith Jr., a native of Fayetteville.
Vic switched to making TikTok videos during the COVID-19 pandemic, where he soon garnered a sizable fan base. His TikToks, in which he frequently offers free haircuts to strangers and interacts with them about their lives, have received praise for their motivation and optimism.
Let's dive into the life of this motivational entrepreneur from North Carolina who rose to fame for his barbering!
Name
Victor Fontanez
Also Known as
Vic Blends
Date of Birth
April 9, 1999 (24 Years)
Place of Birth
Fayetteville, North Carolina
Gender
Male
Zodiac Sign
Aries
Height
5 ft 6 inches (1.67 m or 167 cm)
Profession
Celebrity barber, Social Media Influencer, Entrepreneur
Nationality
American
Religion
Christianity
Ethnicity
Mixed
Father
Mel Fontanez
Mother
Svetlana Fontanez
Sibling(s)
Jessica Fontanez (sister)
Tony Fontanez (brother)
Education
High School graduate
Marital Status
Not Married
Children
None
Net Worth
~$5 Million (Est.)
Table of Contents
Vic Blends' Age
Vic was reportedly born to his parents on April 9, 1999, in Fayetteville, North Carolina, United States. As of 2023, he is 24 years old.
Vic Blends' Height & Weight
He stands at a height of 5 feet 6 inches or 1.67 meters or 167 centimeters. His weight is not known as it is not in the public domain.
He has black hair and dark brown eyes.
Vic Blends' Nationality & Religion
He is an American national with mixed ancestry. His mother is Russian, and his father is Puerto Rican.
He follows Christianity, so he is a Christian by religion.
Vic Blends' Parents & Siblings
His mother's name is Svetlana Fontanez, and his father's is Mel Fontanez. His father works in the military. He works as a Logistic Management Specialist in the 21st Theater Sustainment Command in Kaiserslautern, Germany.
Vic's older brother, a civil engineering graduate, is another member of his family who served in the Army. His name is currently not known.
He also has an elder sister, Jessica Fontanez, now Jessica Cheshier, a nurse with a master's degree.
Victor's younger brother Tony Fontanez, who graduated in June 2022, is the youngest member of the Fontanez family.
Vic Blends' Education
The barbers who would cut his hair inspired him a lot. So, Victor began his side job when his barber stated that learning to cut hair would provide him with a steady income for the rest of his life.
Blends started his hair-cutting business in his mother's garage while in high school. He went to South View High School. He enrolled in FTCC Barber School after graduating in 2017.
Vic Blends' Wikipedia
As a putative side hustle, he began cutting hair in his mother's garage during his senior year of high school. This side hustle suddenly became a passion, and passion became meaning.
Vic has become the world's most renowned barber in five years, has over 20 million social media followers, and has emerged as a leading motivational voice of the new generation.
Vic began his barbering practice by styling the hair of his friends and family. He immediately gained a reputation for his abilities and ingenuity, and he was soon being called to cut hair for individuals all across his community.
Vic wanted to get into the barbering business full-time after graduating high school. He went to barber school and graduated first in his class.
Vic relocated to Atlanta after graduating from barber school. However, during the pandemic, he couldn't work as a barber, he had to reinvent himself to start creating videos on TikTok.
He rapidly became one of the city's most in-demand barbers and soon began cutting hair for celebrities and athletes.
Vic launched his online academy in 2019 to train aspiring barbers how to cut hair and run a profitable business.
Vic Blends' As a Motivational Speaker
Vic is not only an accomplished barber but also an entrepreneur and motivational speaker. Around the globe, he has delivered speeches at universities, corporations, and events.
Vic regularly recounts his tale of overcoming adversity in his talks, which are upbeat and inspirational. He is an outspoken youth advocate, urges them to pursue their ambitions and never give up on their dreams.
As one of the most well-known barbers in the world today, Vic has made a point of giving back to his community.
He started a barber school in California prisons and has organized free haircut events for kids in need. He has told his story to nationwide audiences as a motivational speaker.
Vic Blends' Girlfriend
Victor Fontanez is in a relationship with Kayte Portillo.
She is a Los Angeles native who makes social media content on topics including home, fashion, health, and beauty. Like her boyfriend, she is a hairstylist.
She is a Los Angeles native who makes social media content on topics including home, fashion, health, and beauty. Like her boyfriend, she is a hairstylist.
They appear to be in love. Observing their TikToks, YouTube videos, and Instagram posts, the couple's romance is flourishing. The couple are not married or have any children yet.
Vic Blends' Social Media
Vic's initially went viral on social media in 2021. On TikTok, he started posting videos of himself doing haircuts, which soon gained popularity.
Vic is renowned for his charismatic demeanor and high-quality production qualities in his videos. He frequently gives his followers inspirational words of wisdom. He has established himself as a global role model for young people.
On TikTok, Vic has over 14 million followers, and over 1 billion people have seen his videos.
Below is a list of his social media following as of 2023.
Vic Blends' Net Worth
Vicblends' wealth has grown significantly due to his thriving barbering business and his fame on social media sites like TikTok and YouTube.
Vic Blends' net worth is roughly estimated at about $5 million as of 2023.
FAQS
Who is Vic Blends?
Victor Fontanez, a 24-year-old barber and businessman from Fayetteville, North Carolina, started cutting hair as a side gig in his mother's garage.
He has since evolved into one of the most well-known celebrity barbers and a successful entrepreneur. He has almost 20 million followers on social media.
How tall is Vic Blends?
He is 5 ft 6 inches tall.
Is Vic Blends white?
It is not known whether he is ethnically white or not. He has a mixed ancestry.
Does Vic Blends have a barber shop?
He does not have a barbershop. However, he does have an online barber academy called Vic Blends Academy.
What is Vic Blends' net worth?
His net worth is estimated to be around $5 Million as of 2023.
What is Vic Blends' real name?
His real name is Victor Fontanez.